How to choose hôtel in Marrakech medina ? Riad or Hotel in Marrakech? and in the. You will live a unique experience in the heart of the city. Hôtel marrakech all inclusive ? Finding a hotel near Jemaa El Fna Square ? It is a question to ask yourself before finding the right hotel in the medina.. Riad Vendôme is a riad in the medina with swimming pool in the city center Jemaa El Fna (located 1 km). During a weekend, in a group for a birthday, as a couple or as a family with children, the choice is yours. It has a swimming pool,, a Spa with massages and hammam for your well-being.
Marrakech located in the heart of Morocco, enjoys an ideal location. Surrounded by the Atlas Mountains, the massif extending over 1,500 km, it is a former imperial city which offers tourists many legacies of its rich historical past. Nicknamed the 'red city' because of the color of its ramparts and its houses, Marrakech has always been a very popular destination for Europeans wishing to spend a holiday or a weekend of relaxation and take advantage of the many leisure activities. .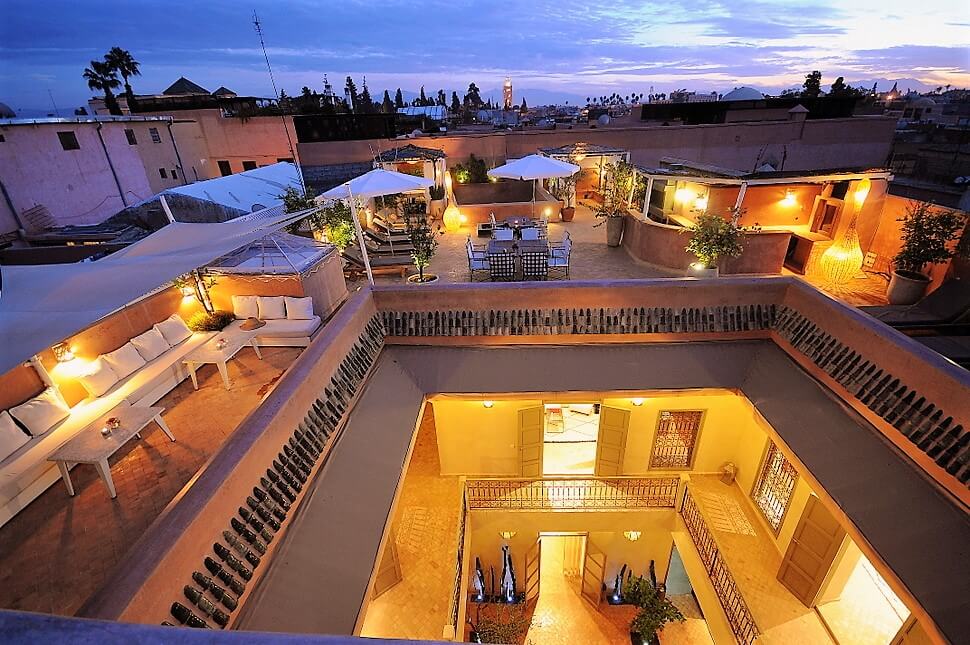 The riad is a traditional house in Morocco, organized around an open patio. The patio is furnished with a pool. The rooms are mainly located on the floors of the riad. The riad's double RoofTop terrace offers a magnificent view over the roofs of the medina and the Atlas mountain range. For a complete immersion in Marrakech, you should choose the riad as your accommodation. Riad in Marrakech: Riad Vendôme & Spa. In contrast, hotels are more classic, there is everything in Marrakech as in all cities in the world, from small inexpensive hotels to luxury hotels with several swimming pools.
The number of hotels in Marrakech is well represented, including hotels in all categories of 3, 4, 5 stars and palaces all located outside the medina (old city), as well as charming riads, boutique hotels and riads in Marrakech 5 stars in the medina. Located near the Jemaa el-Fna square, the Riad Vendôme & Spa also allows you to combine spa, cultural visit and activities. The Riad Vendôme hotel offers charming rooms and suites as well as personalized services. With nearly 5 million visitors per year, the old city medina continues to diversify, regularly including one or the other of the promotions in the sen of the interesting riads. You will not be disappointed with Marrakech according to your requirements to enjoy the fascinating beauty of the ancient Moroccan imperial city. The cultural offer is growing every year: festivals, concerts, sporting events, high fashion shows and parades, film festival, punctuate the daily dynamic of the booming city.
(*) For any reservation of more than 3 nights, Offer cannot be combined. Payment possible by bank transfer, credit card, bitcoin.
Riad Vendôme, will make you discover and taste the best Moroccan dishes: tagines with prunes, kefta, chicken with lemon, couscous with 7 vegetables and also some Western dishes.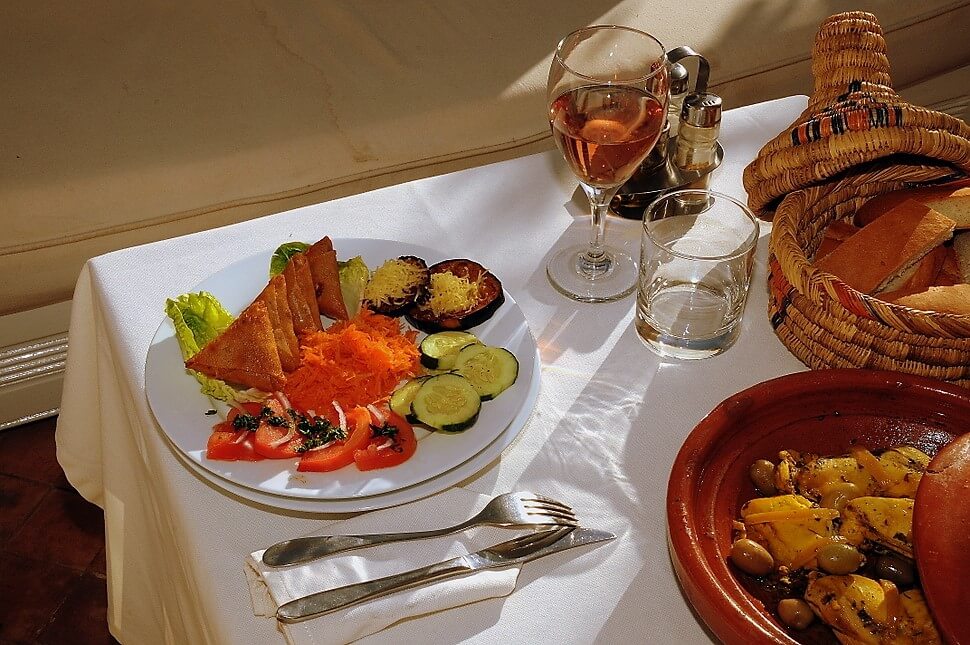 Our team will be there to answer all your wishes to make your stay unforgettable.
Are you looking for a hotel in Marrakech with swimming pool and authentic? You're at the right address ! Our serviced riad offers an outdoor swimming pool nestled in the heart of Dar El Bacha and offering you excellent value for money. Children will appreciate when they return from a day of walking in the souks.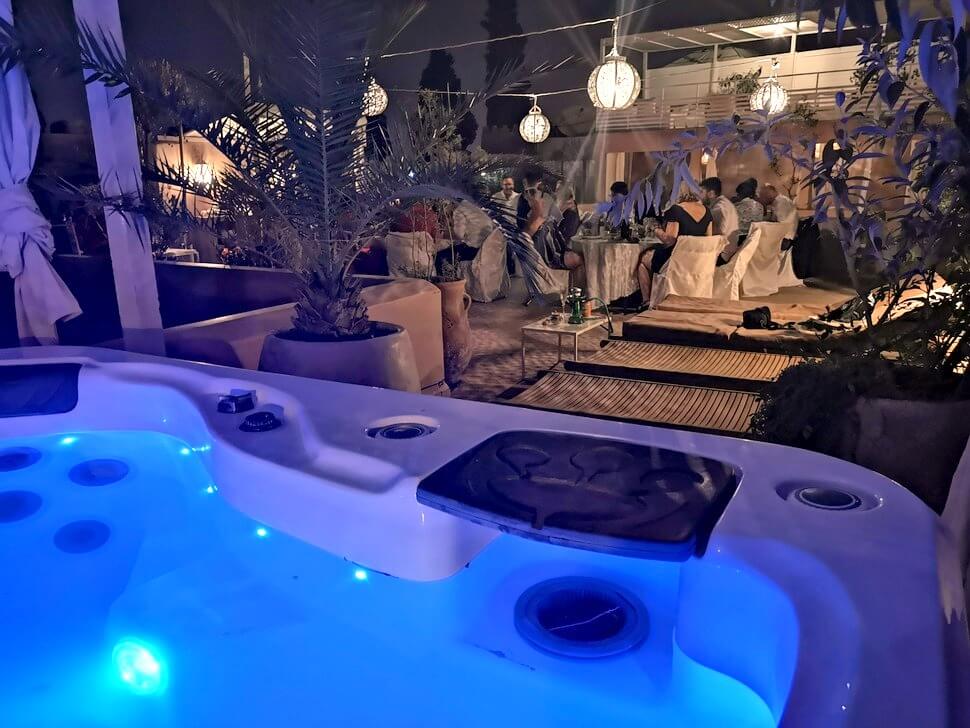 We organize all your visits to Marrakech with an official guide and your excursions outside: ourika valley, asni toubkal park, the sea in essaouira, oukeimenden mountains, sahara desert, etc.
A la carte catering for lunch or dinner,
Possibility of half board,
Barbecue on the roof terrace,
Transfers: airport - riad at any time,
Private tour in the desert,
Book golf tee time (reservation of departures, rental of equipment, transfers to the courses),
Restaurant reservations,,
Laundry (Paying Service),
Baby-sitting (paid service),
Personalization of your rooms for specific events,
VIP welcome (Flowers, Fruits, Champagne, Chocolates….) Adaptable to your wishes,
Privatization of the riadfor your events,
Chicha,
Birthdays, Valentine's Day packs,
Gift boxes
Any other desire you would like,
The medina, the historic center of the city, covers 650 hectares and was listed in 1985 as a Unesco World Heritage Site. Surrounded by the city walls which extend over 19 km, the medina offers visitors a multitude of monuments, palaces and religious buildings, including the Medersa Ben Youseff mosque. Jemaa el-Fna square is the nerve center of the medina, with its street artists, snake charmers, fire eaters, other dancers and artisans. The square hosts many events and is considered by locals as a cultural space. Do not miss a walk in the souks to find a souvenir and buy pottery, lightings or a beautiful carpet.