Riad with pool in Marrakech. Which beautiful Marrakech medina riad with swimming pool to choose? Located in the heart of the medina of Marrakech, close to Jemaa el Fna square, the Riad Vendôme is a riad in Marrakech with swimming pool.
Contemporary in style, the riad opens onto the lounges, continues upstairs with 10 bedrooms and junior suites upstairs, and finally arrives on the panoramic terrace and Spa massage room. A Thousand and One Nights atmosphere awaits you throughout your stay at Riad Vendôme (undoubtedly an unforgettable moment).
If you want to spend a weekend or a short stay in a riad with swimming pool, the Riad Vendôme & Spa will welcome you in the pure Moroccan tradition. The Riad Vendôme & Spa has a swimming pool of 5m * 3m, in turquoise blue colors.
You woud like to have your holidays or a week-end in a riad Marrakech with pool, le Riad Vendôme & Spa wish you a welcome stay in marrakech medina.
Riad with jacuzzi and pool
In addition to the swimming pool, you will enjoy on the roof of the riad a private Jacuzzi heated to 37 degrees for 4 people, thanks to the massage jets. All this just for your pleasure.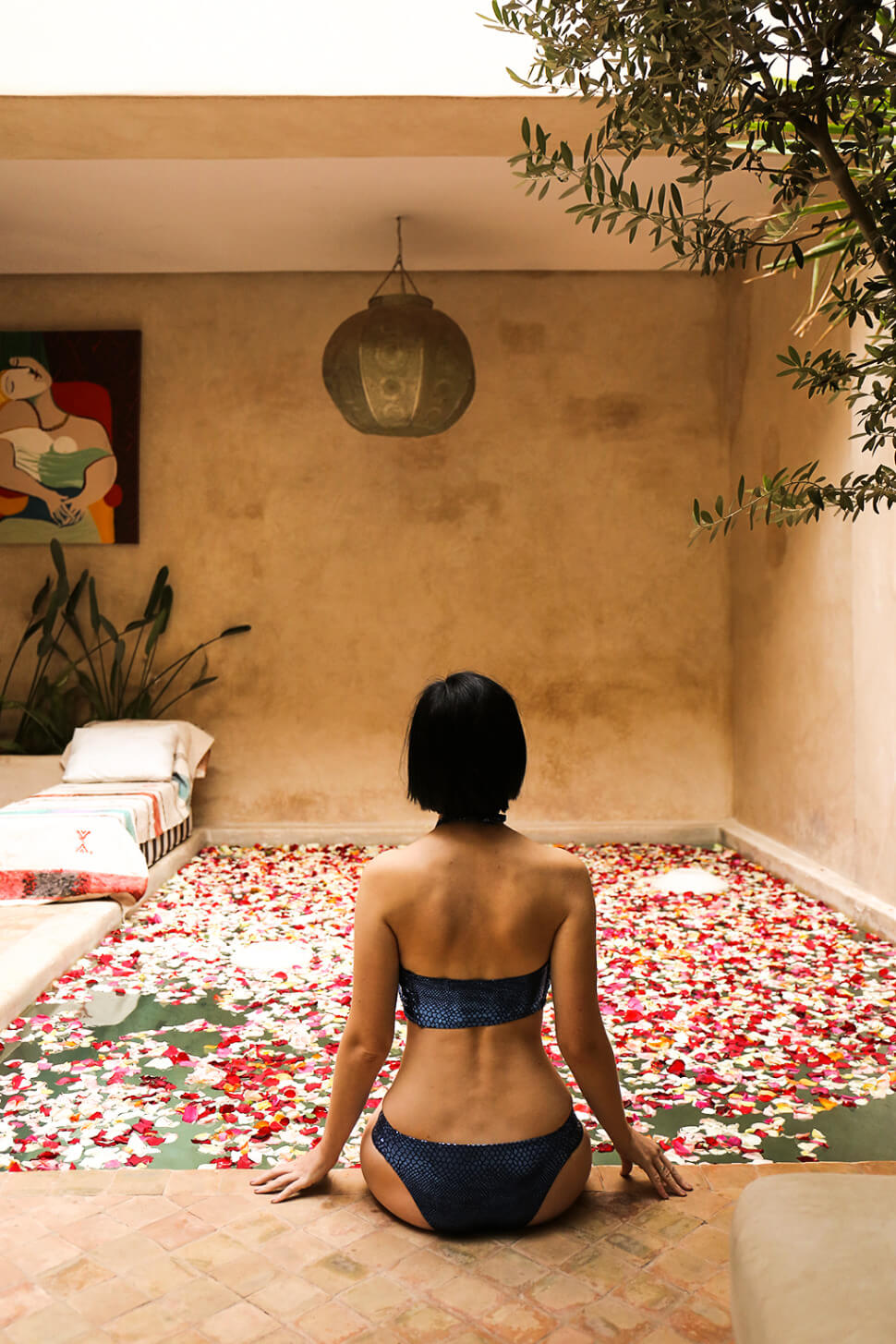 More than a pool, Riad Vendôme & Span has a Spa with hammam and massages for your heathcare and relax during you journey.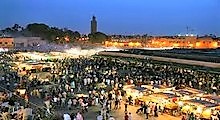 Come and discover the city of a thousand and one nights in a riad with swimming pool and half-board, under the magic of the ocher city. Riad Vendôme & Spa, is located 300 m from the souks and 7 minutes walk from the Jemaa El Fna square. Back from a long walk in the Medina, you can relax around the swimming pool and the Spa.
You will enjoy an all-inclusive riad stay with swimming pool, Spa with hammam and oriental massages. Choose the rental of a riad with indoor swimming pool.
(Answer in less than 3 hours)
(*) For any Reservation of more than 3 nights, Offer cannot be combined. Payment possible by bank transfer, credit card, bitcoin.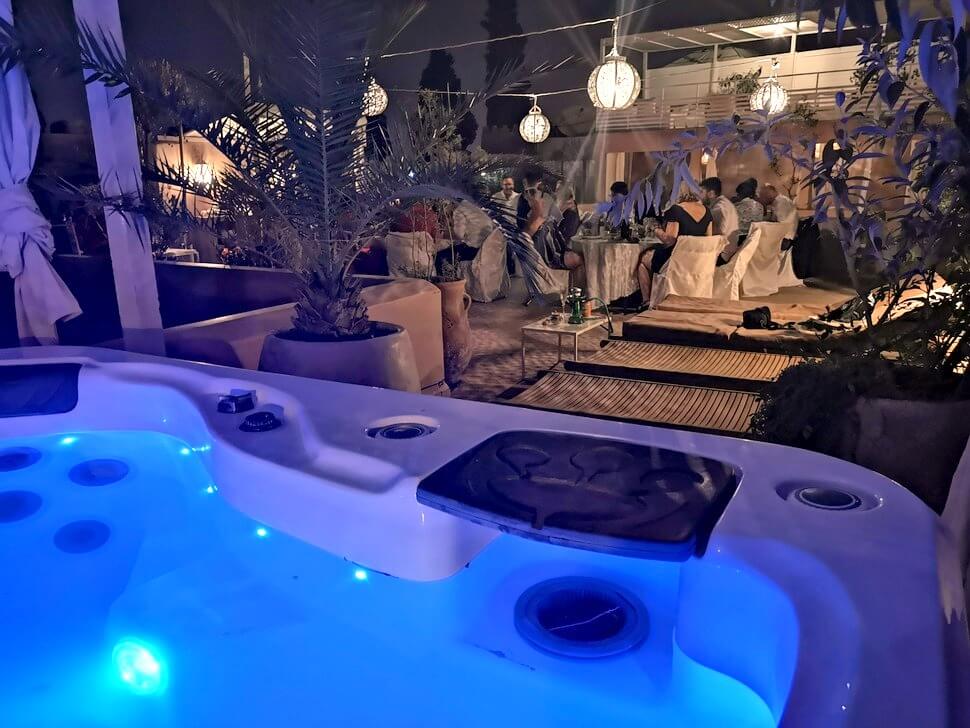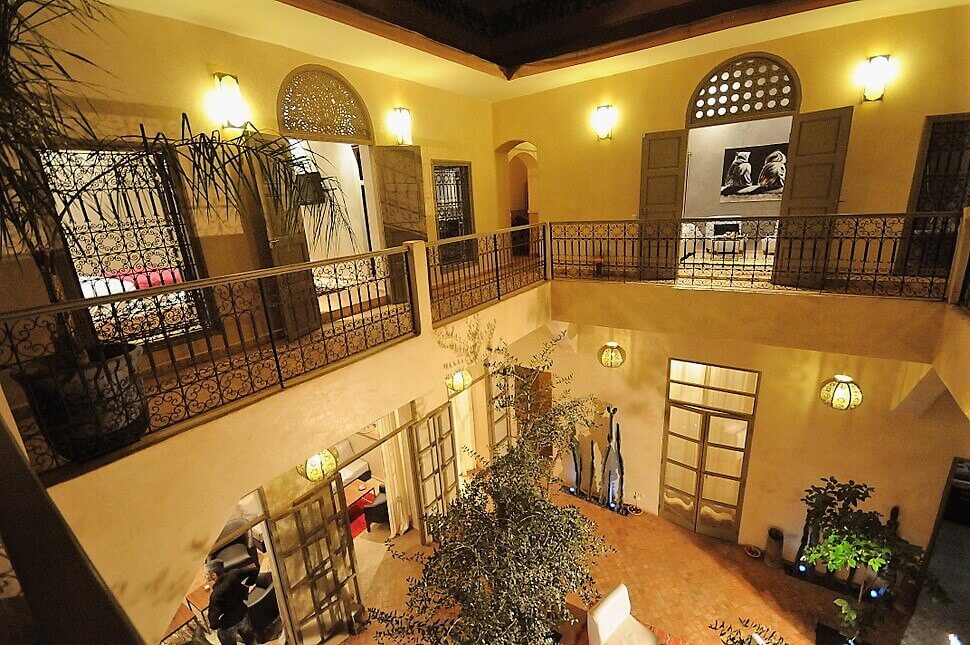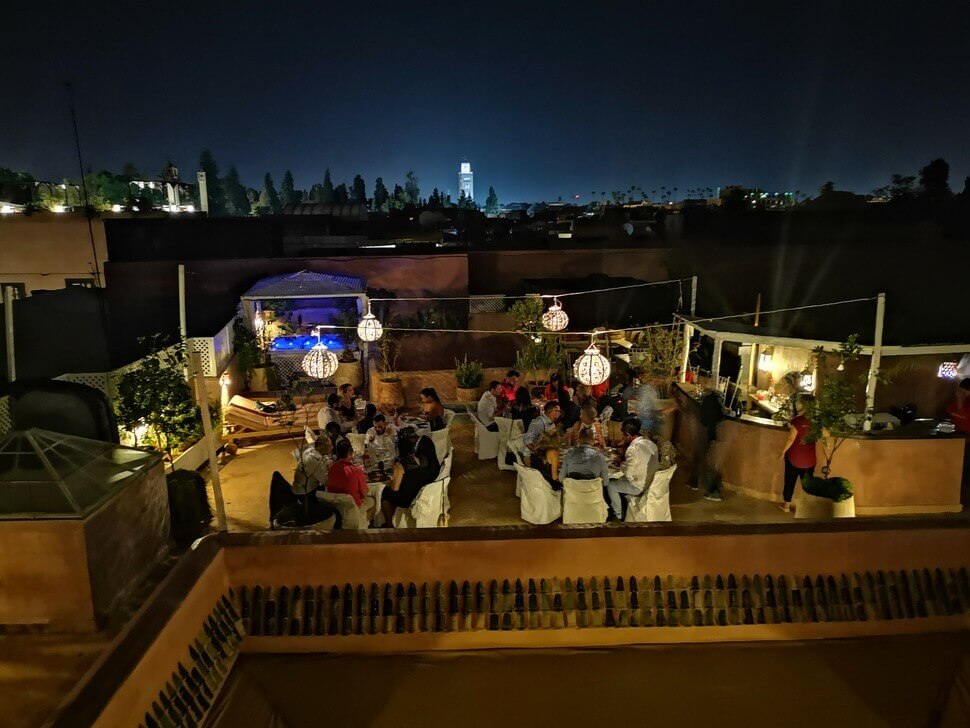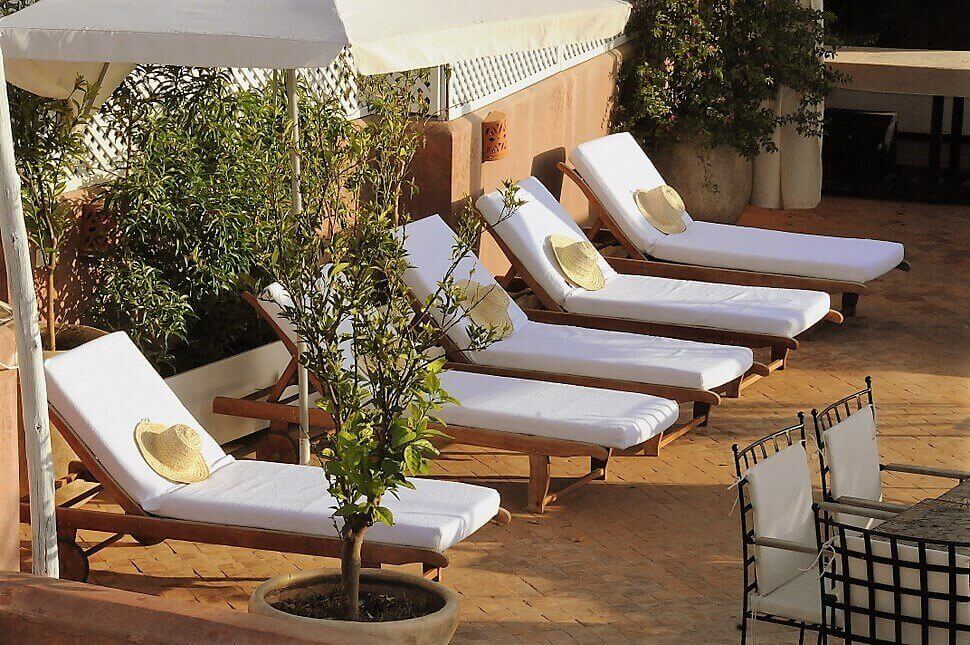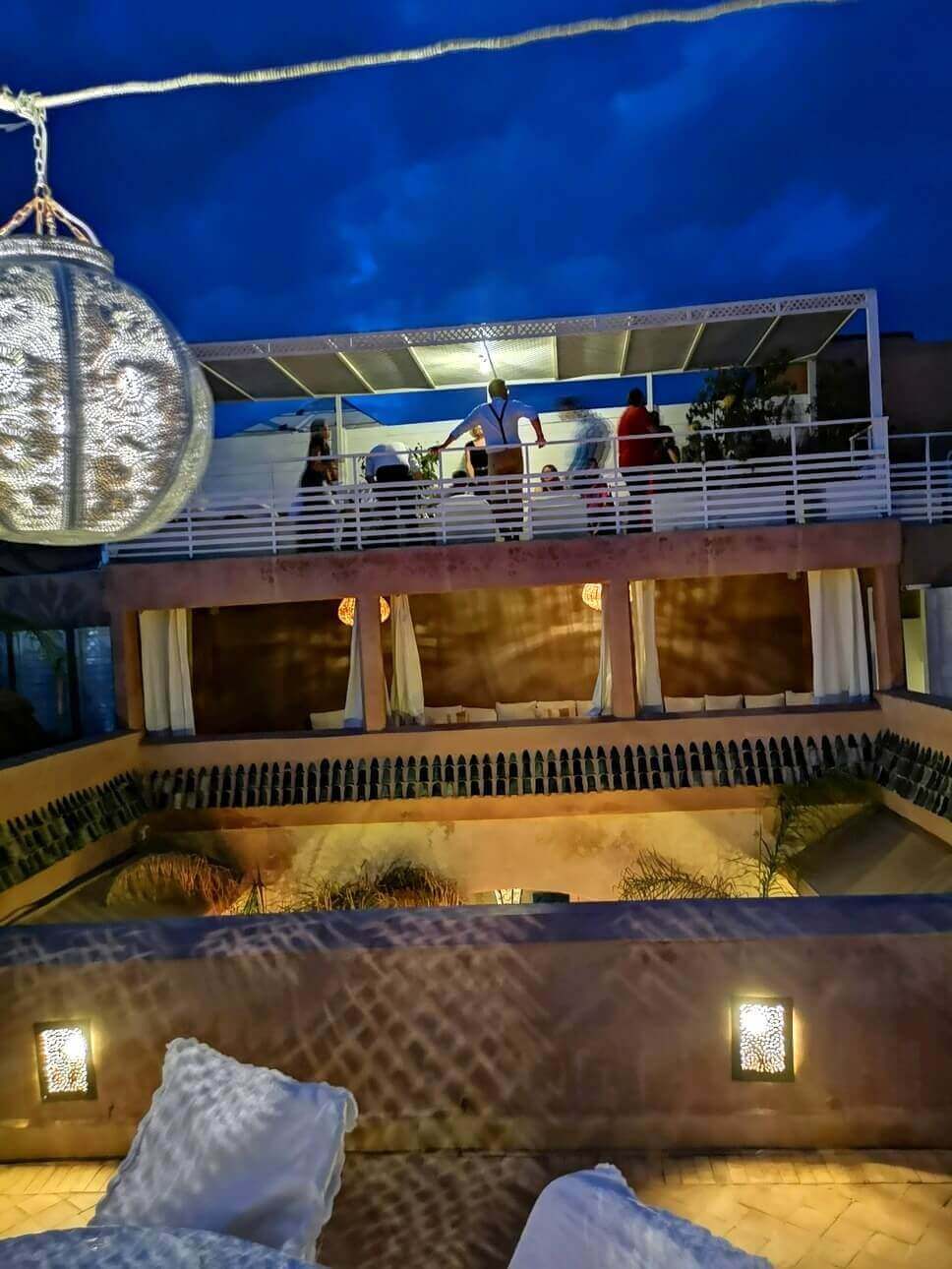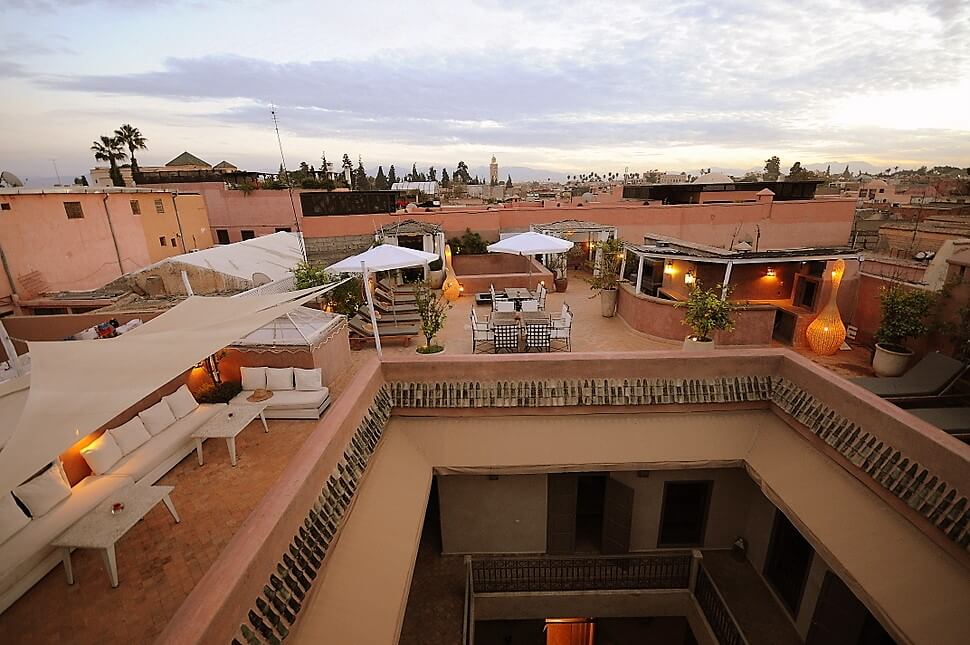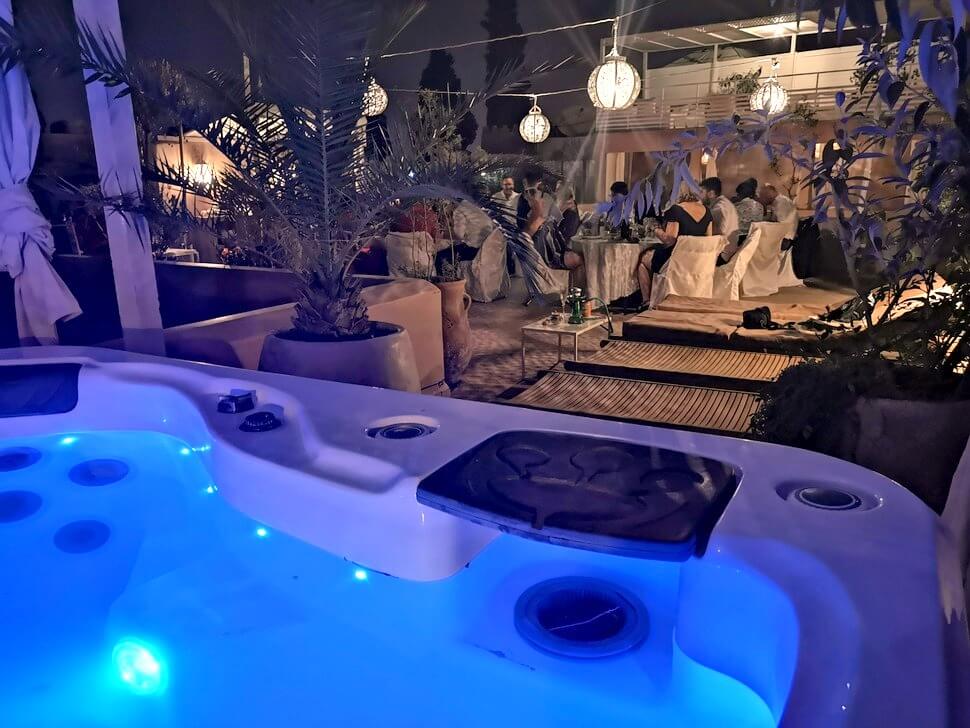 Riads and dars are traditional Moroccan dwellings, located in the medinas of Moroccan cities, embodying the essence of Moroccan architecture.
Often hidden for travelers who discover the old town, these guest houses, closed to the outside, do not leave an interior beauty as soon as they enter their doors. The alleys leading to the houses are narrow ...
Rectangular in shape, these large, spacious guest houses have one or two floors, with a rooftop in the riad on the roof terrace. The columns supporting the roof are visible and form a succession of galleries which open onto the patio. You can find a riad with a rooftop pool in Marrakech. The riad has a bar with alcohol, Guérouane wine, Volubilia and Champagne to celebrate a birthday in a riad.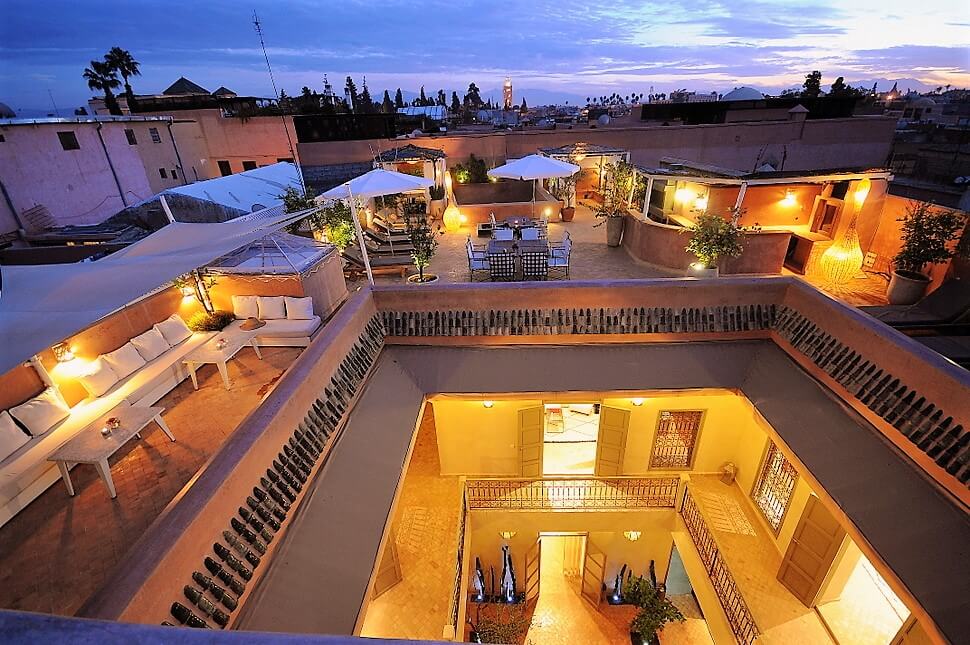 You will have the pleasure of discovering a patio planted with trees in a riad in Marrakech on Jemaa El Fna square with swimming pool. The riad with swimming pool is out of step with the noise of the souks and the calm of the riad's rooms will reinforce the serenity of the place.
In order to preserve these mansions in the medina, they have been rehabilitated into guest houses. We find all the Moroccan crafts: stucco, zellige, tadelakt, cedar work ...
In addition to its originality, the Riad Vendôme & Spa offers a personalized hotel service for your group.
If you choose Morocco for your vacation, looking for a rental with a swimming pool, the riads and Spa benefit from the most attractive rates.
The riads in the Medina of Marrakech, constitute an original way of discovering the marrrakchi culture. Although the riads were private houses, many have been transformed into hotels and boutique hotels. These are old riads, with traditional Moroccan architecture and construction.
What is the difference between a riad and a hotel with a swimming pool?
People who have already visited Morocco to book a riad for 30, 20, 25 or 15 people in the center or near Guéliz, which is a way to soak up the atmosphere of the country. A riad near the Jemaa El Fna square will allow you to live a Moroccan experience. Our riad is a boutique hotel with spa, jacuzzi and swimming pool for a limited group of people. The riad has 10 rooms and 15 to 20 rooms with our neighboring riads run by French people for a personalized and attentive service.
If you decide to visit the city, book a riad with a private swimming pool directly. Tourists prefer a rental with a swimming pool near the Jemaa El-Fna square in order to be in the heart of the city and its atmosphere. You will be in the heart of the Medina and you will feel in an oasis of tranquility. after visiting the Medina, the Yves St Laurent museum and the Majorelle gardens, enjoy a moment of well-being with a Spa package: private hammam, massages and jacuzzi in the rooftop of the riad.
To find the best riads in Morocco for your vacation, just choose the Riad Vendôme & spa which is one of the best with its Spa: oriental hammam, jacuzzi heated to 36 degrees, free outdoor swimming pool, restaurant for lunch and dinner.
Beautiful riad with inexpensive swimming pool, book a riad directly on our site and benefit from the best rates and services.
Organize your business seminar. The team will organize for your group of employees your stay, your program throughout the seminar with meeting room, airport transfers, excursions, on-site catering, activities: buggy, quad, camel as well as an evening with dinner festive oriental with cheap pool.
Whether for a special occasion, a relaxed family vacation, a successful bachelorette party in Marrakech in a riad or a last minute weekend with friends, the exclusive reservation of a privatized riad is undoubtedly the solution. Our riad offers you a combination of romantic double rooms, family rooms for 4 or 5 people, double room with half board, room with children in a riad, connecting suites for adults and children, rooms with baths for one night romantic, where twin and triple beds. If necessary, we can equip an entire riad with single beds, offering an ideal villa rental for a golf stay in a riad, or a girls' weekend or stag party. For any reservation, our Moroccan cuisine in half board or full board will allow you to discover its spicy dishes in the colors of the city, whether you are dining by the pool or on the rooftop, during an aperitif dinner on the terrace of the roof (panoramic rooftop on the Koutoubia, the Mamounia and the snow-capped peaks of the Atlas Mountains. We can also organize a gala evening with Gnaoua musicians, belly dancer, snake charmer, fire eater, magician, followed by a musical evening.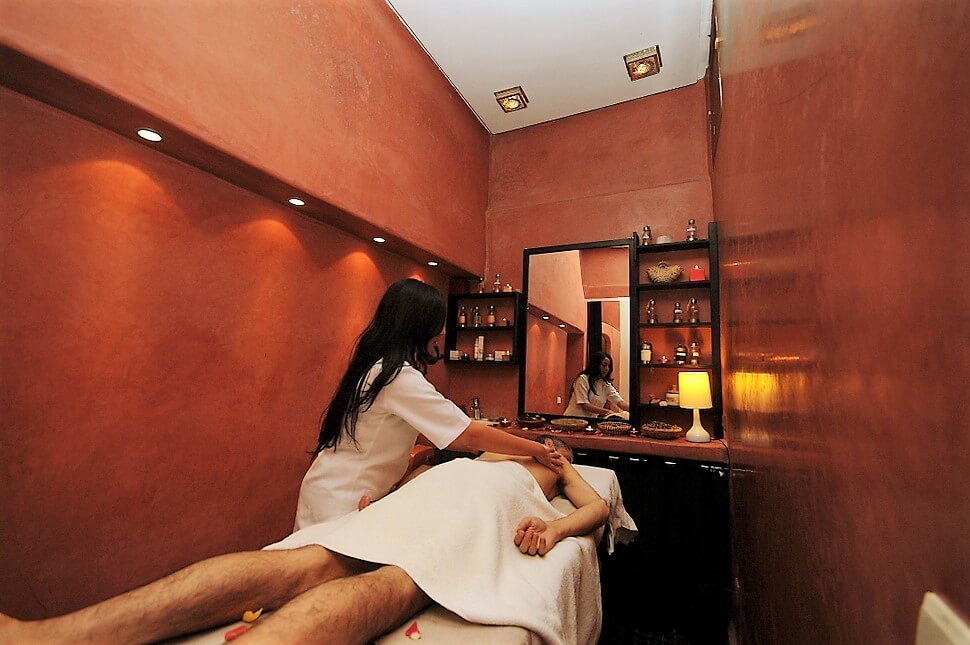 Your riad with private swimming pool. The best prices guaranteed for any direct booking of Riad Vendôme & Spa - Ranking of riads by the Moroccan tourist office.
We invite you to come and discover, you will be immersed in an atmosphere of colors bathed in sunshine under a blue sky.
We know the city perfectly and can advise you on places to visit, restaurants and we will offer you a unique stay in one of the most beautiful riads. Visit with an official guide to the souks and monuments of the medina, visits to the gardens, oriental and romantic dinner on a terrace, treatments and spa package in the riad, golf, quad or buggy outings in the Agafay desert or dromedary in la Palmeraie, evening and dinner in the desert facing the snow-capped mountains.
Our riad, managed by an individual, private and carefully restored and maintained by its owner, is ideal for renting a riad for 10, 15, 20, 25, 30 or 35 people all inclusive. The decoration is a harmonious blend of tradition and contemporary modernity.
The riad has a cook, cleaning lady, a concierge service. The house staff are at your disposal throughout your stay in your villa. Our riad for rent in Marrakech with French management will meet all of your expectations. We will be able to advise you and help you discover the city (outings, visits, rites and customs). It is discovering the city thanks to the initiates and leaving with different memories.
Come and meet the ocher city! This surprising city for a total change of scenery 3 hours by plane from the main cities of Europe. The pearl of usud is attractive all year round thanks, among other things, to its exceptional sunshine.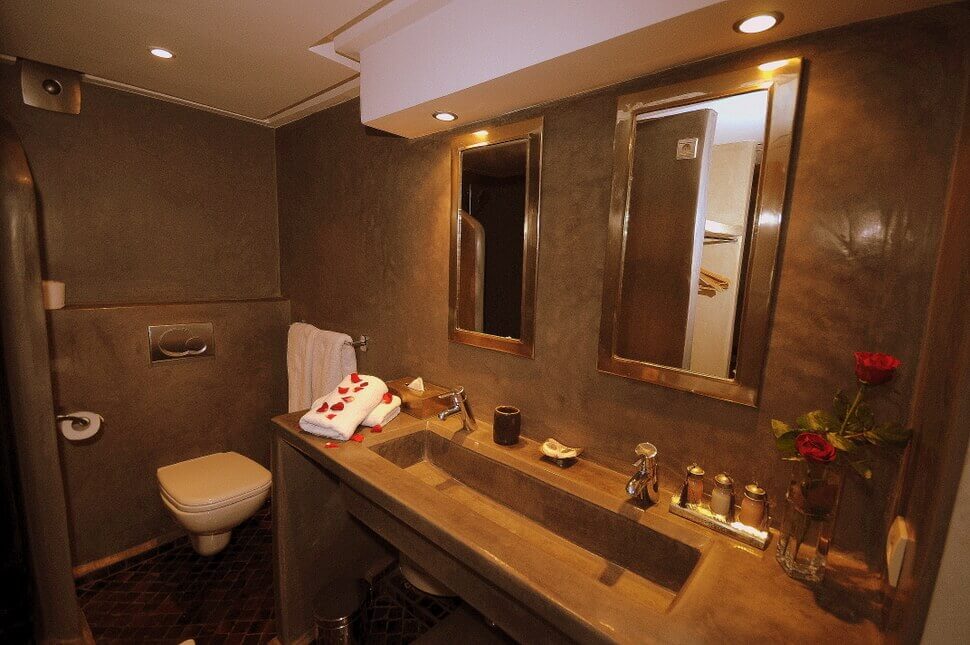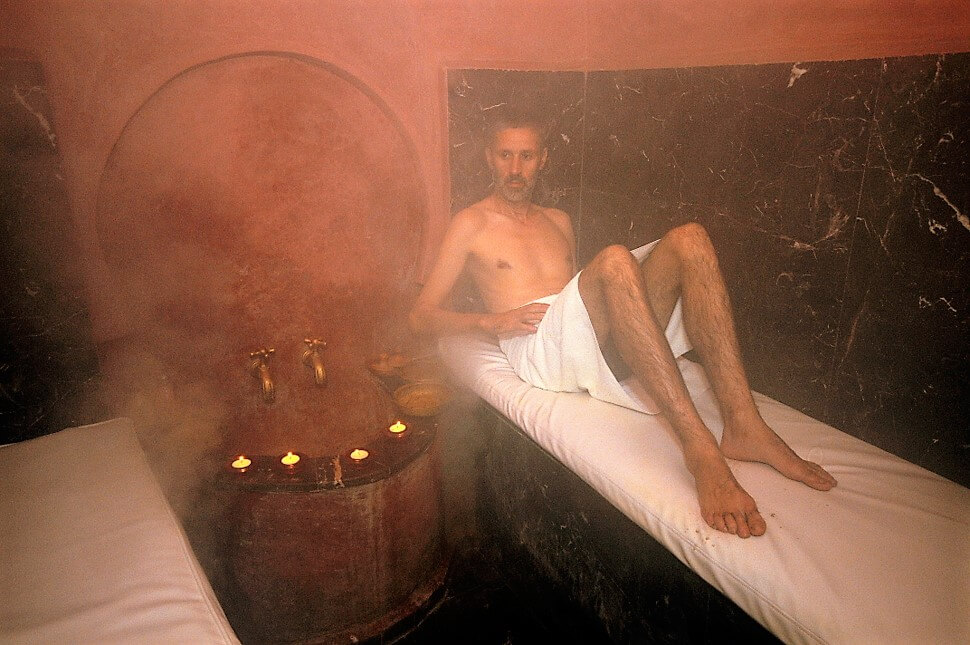 Our guest house - charming riad for your stay for two or for renting a riad for your family or friends, with or without children.
Riad Vendôme & Spa is in the heart of the Medina, near the Jemaa El Fna square and 10 minutes from the Marrakech museum and the Medersa Ben Youssef. In this beautiful riad in Marrakech with 10 rooms, Naima & Meriem will welcome you in a traditional and relaxed atmosphere. Riad Vendôme & Spa is a quiet guest house, located right at the entrance to the souks. The rental with swimming pool by an individual, offers the possibility of benefiting from the best rates and last minute offers.