Is marrakech good for a hen do ? Yes, that's the right place for your hen party in Marrakech. you can enjoy a stroll in the souks, lovely evenings in bars and nights club in the red city, spend an afternoon at the Plage Rouge, Niki Beach under the sun of the "ocre" city. You can book at Riad Vendôme & Spa for a small group of 4 to 6 people or rent the whole riad in exclusively for 15, 20 or 25 persons.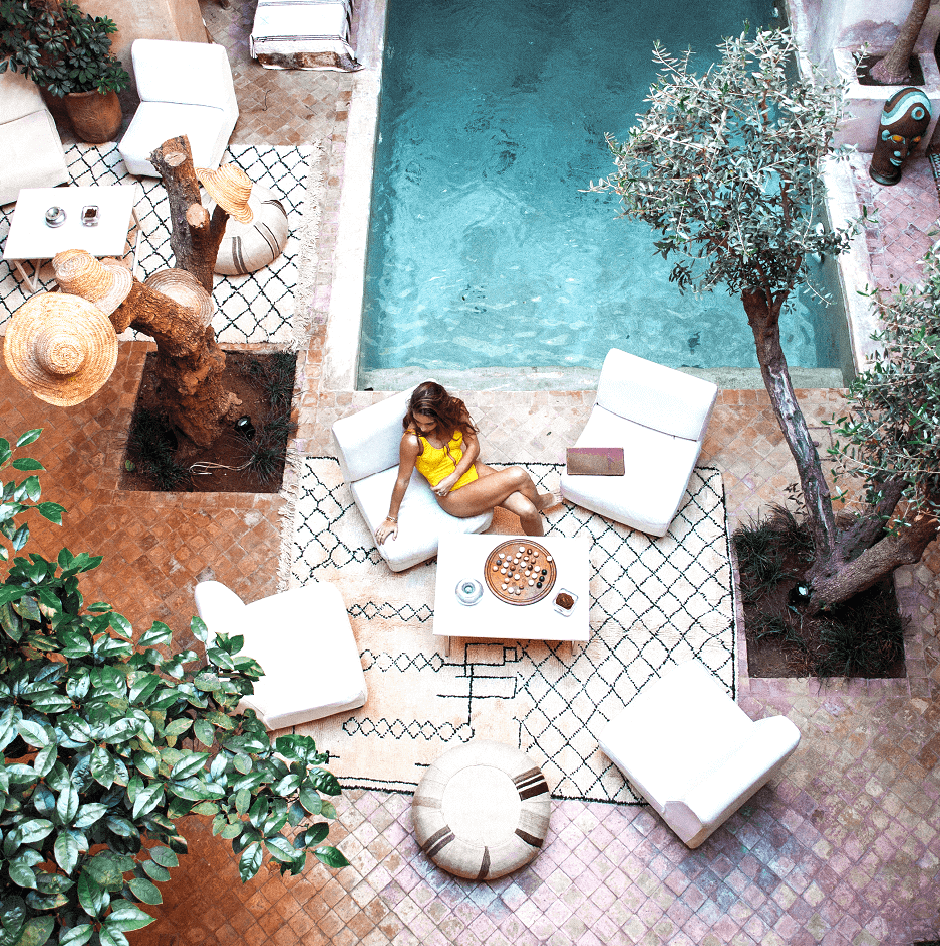 Marrakesh Bachelorette Party Budget
Now, it's up to you not to miss the plane, for the rest the Riad Vendôme & Spa takes care of all the organization.
All the details for your Bachelorette weekend in Marrakech are offered in our different formulas. Let us know your wishes, special wishes that are not included in our packages.
To give you an idea, a Bachelorette Spa & Riad package Bachelorette Spa & Riad on a basis of 4 girls including :
return airport transfer,
welcome to the riad with tea and Moroccan cakes to soak up the place,
accommodation at Riad Vendôme in a Junior Suite (Oukeimenden type for 4 girls) for 3 days and 2 nights,
breakfasts and tourist taxes,
a dinner at the riad on the roof terrace,
a half-day Spa with oriental hammam,jacuzzi and 1 hour massage in the riad,
a quad ride in the Palmeraie (1 quad for 2 girls),
an evening in a club in Marrakech (impossible to predict, depending on your thirst o:)),
For this formula a bachelorette party weekend in Marrakech, it will take a budget of £ 169 per girl. (estimate depending on your dates).
You will have to add the flight (between £ 80 and 160 depending on your departure city) and see the best rates directly with Ryanair, Transavia, Royal Air Maroc ou Easyjet .
Bachelorette Accomodation Marrakech
The riad is the place to celebrate an bachelorette in Marrakech in all intimacy and conviviality. On your first Bachelorette Marrakech evening, start in the best way possible...
Arrival at the airport, we will come in a private 4*4, arriving at the riad the aperitif awaits you on the roof terrace of the riad with a panoramic view over all Martrakech and the snowy Atlas mountains (if you are lucky), relax before enjoying the Moroccan cuisine full of freshness and spices on the patio with its psicne or on the rooftop under the stars.
The next day, direction the souks located 200 meters from the riad and visit the city with or without an official guide. If you are not lost, back exhausted to explore the small winding streets of the medina, Fouzia and his team await you for your moment of relaxation and well-being at the Spa, private hammam, private jacuzzi at the riad. All this just for you before sunset.
Unless you choose a session of Yoga and relaxation with one of our coaches in Marrakech. On the last day, head for a quad raid in the Agafay desert or for a camel ride in the palm grove. What are you waiting for to organize this Bachelorette weekend in Marrakech with the maximum of activities?
Bachelorette Ideas in Marrakech
Marrakech Riad , we are offering our guests support and information to help you to plan your perfect stay in our beautiful Riad Vendôme & Spa accomodation. Marrakech is a fantastic palce for a nice Hen weekend in Marrkaech. Riad Vendome offer Spa with Hammam, Jacuzzi and massages, also shopping in the souks, the memorable Jemaa al Fnaa Square,with best choice of restaurants than most of Europe, the option to for nice party on the dance floor, with variety of clubs of Marrkaech.
The old part of the city "Medina"is can also accpet night party in a private riad with music. Riad vendome accept hen night party and serve all alcohol, and of course you can enjoy having a drink with a meal and chat late in the night. Hens work sharing rooms between 2, 3, 4 or 5 persons per room can be offered following your needs.
We will organize your transfers to and from the airport. We can organise all your Hen week-end event in marrakech. You will loke an Moroccan food and we can deal foofing requirements, like vegetarians are particularly well catered.
The girls weekend is a fantastic value Hen package for £ 169 per person.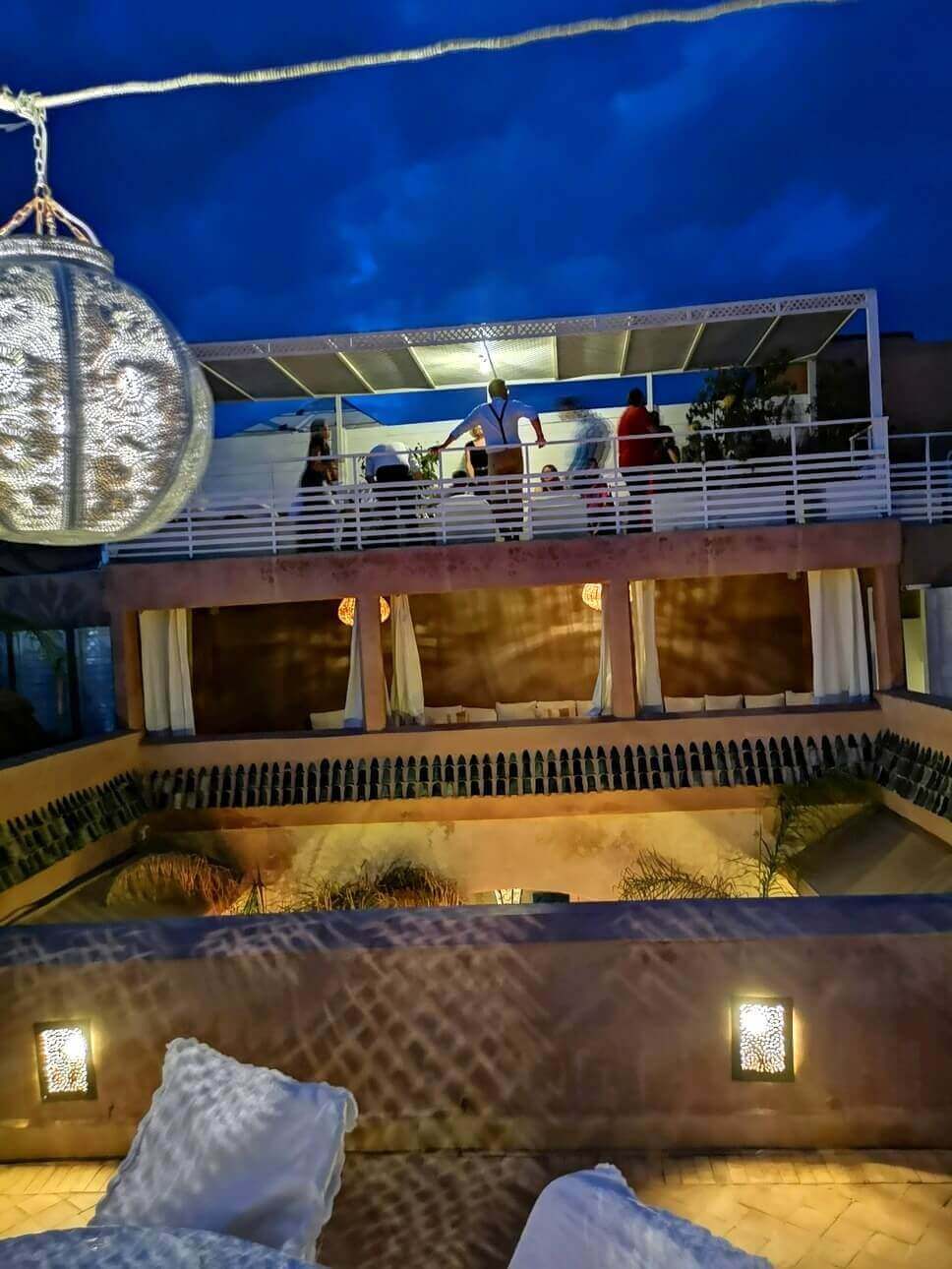 Marrakech is the perfect destination for an Bachelorette. It is one of the top places for a group Bachelorette for a simple bachelorette party between girlfriends with all the possible services: Charming Riad in the medina, Spa and wellness in the riad, Moroccan restaurant in the riad, for a budget and cheap all-inclusive Bachelorette package. Our establishment will offer you a personalized and friendly service (welcome, products, friendliness, comfort). A weekend Bachelorette in Marrakech in a riad is the guarantee of a magical moment, at the gates of the Orient ... So, come and discover the thousand and one nights of Marrakech with your friends.
Thing to do in a Marrakech hen party
Riad Vendôme & Spa will take care of all the organization and details, to make your weekend run smoothly. Let us know your desires and wishes for your Bachelorette.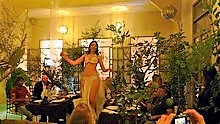 festive evening in marrakech for Bachelorette If you are a group of 10, 15, 20 or 25 people for your Bachelorette, we propose you to rent the whole riad for 2 or 3 nights. It is possible to organize a festive evening including dinner, snake charmer, gnaoua musician and oriental dancer. You will be able to continue the evening either in the riad (we have loudspeakers and possibilities to put the music all night long next to the pool) or go to one of the many discotheques of the city, Silver, le So, le Theatro, 555, etc...
Hen party in Marrakech all inclusive
Reception of the hen group at the airport,
Accommodation in Riad vendôme with room for 2, 3, 4 or 5 people,
possibility of aperitifs or dinner on the roof terrace of the riad,
Spa with oriental hammam, jacuzzi and massages in the riad,
The staff of the riad is at your disposal, welcoming, discreet and at your care,
your possible visits and excursions outside marrakech,
Riad Vendôme & Spa is without a doubt the ideal place to celebrate your Bachelorette in Marrakech medina.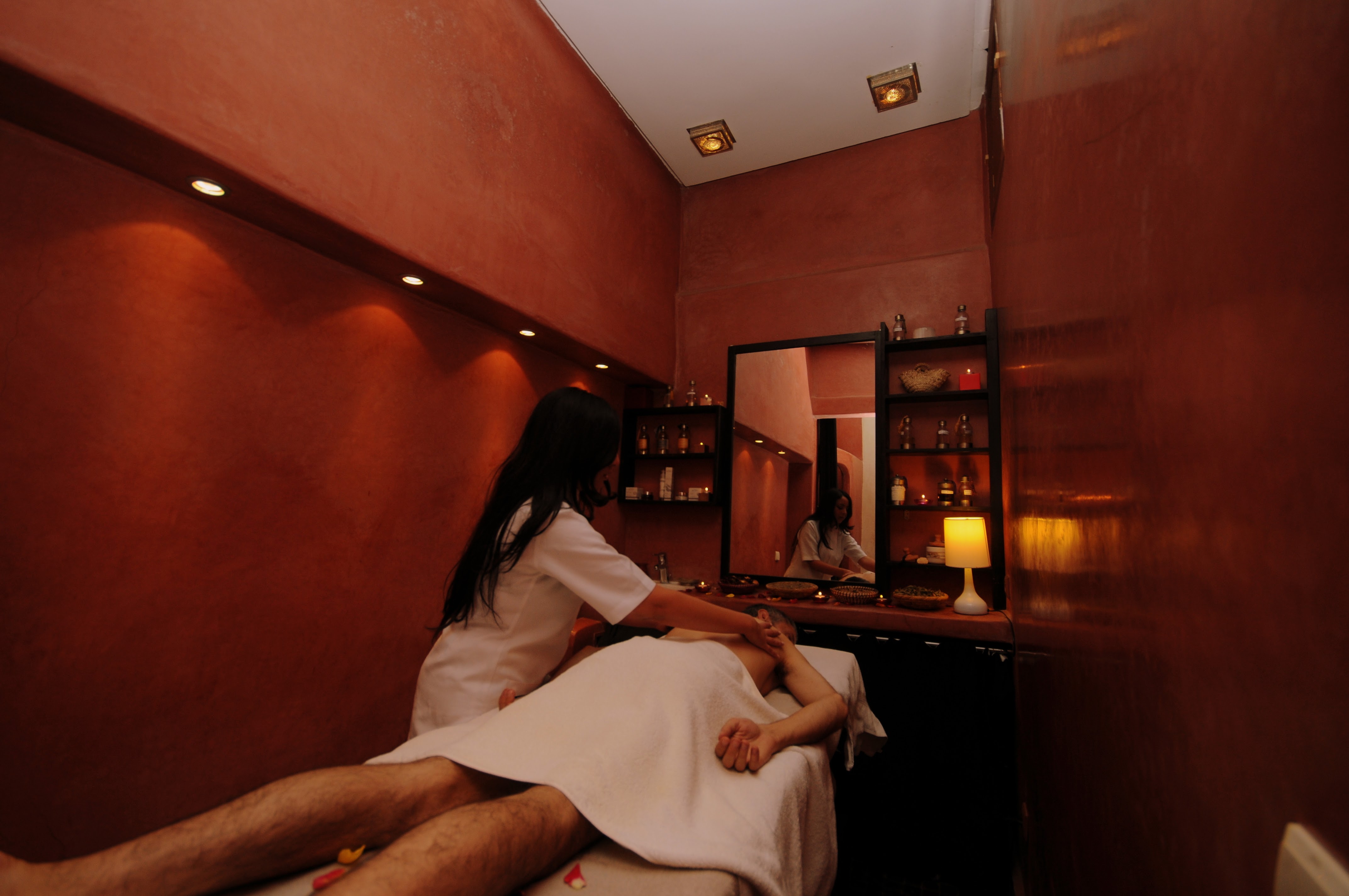 Activities for a Bachelorette / Hen in Marrakech
Possibility of aperitifs or festive dinner on the roof terrace of the riad,,
Spa with oriental hammam, jacuzzi and massages within the riad,
Visits with an official guide to monuments and souks,
Excursions outside,
Quad in the Palm or Agafay desert,
Camel ride in the Palm,
Personalized shooting photo session,
Workshop - Cooking Class,
Escape Game in the Medina,
Oriental dance lessons with a teacher,
Classes, Yoga relaxation session,
Henna tattoo,
Hot Air Balloon Flight,
Zip line in the Atlas,
Any other whishes...
1 - Bachelorette Marrakech : Shooting photo
We offer a tailor-made and trendy Bachelorette Shooting-photo. This is an opportunity to keep a very good memory and beautiful photos of this experience for the future bride and her friends. Where the photographer captures every moment of happiness, smiles and knows how to highlight them.
Our professional photographer will guide you during this shooting session. The city offers many places and possibilities to carry out an Bachelorette memories photo : in riad, Agafay desert, Palm grove, Majorelle Gardens or even the souks. It takes between £ 30 and 40 per girl for this activity.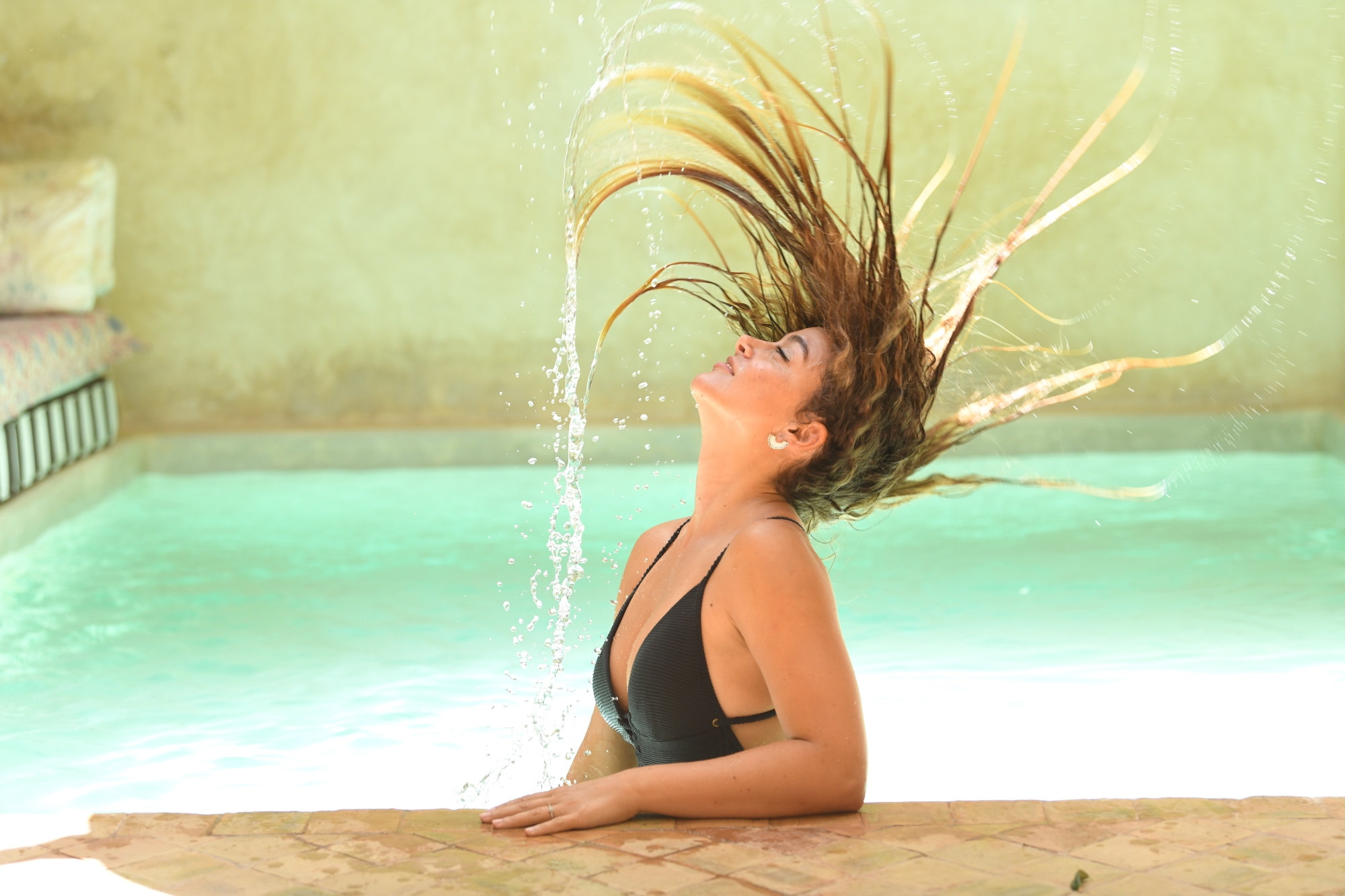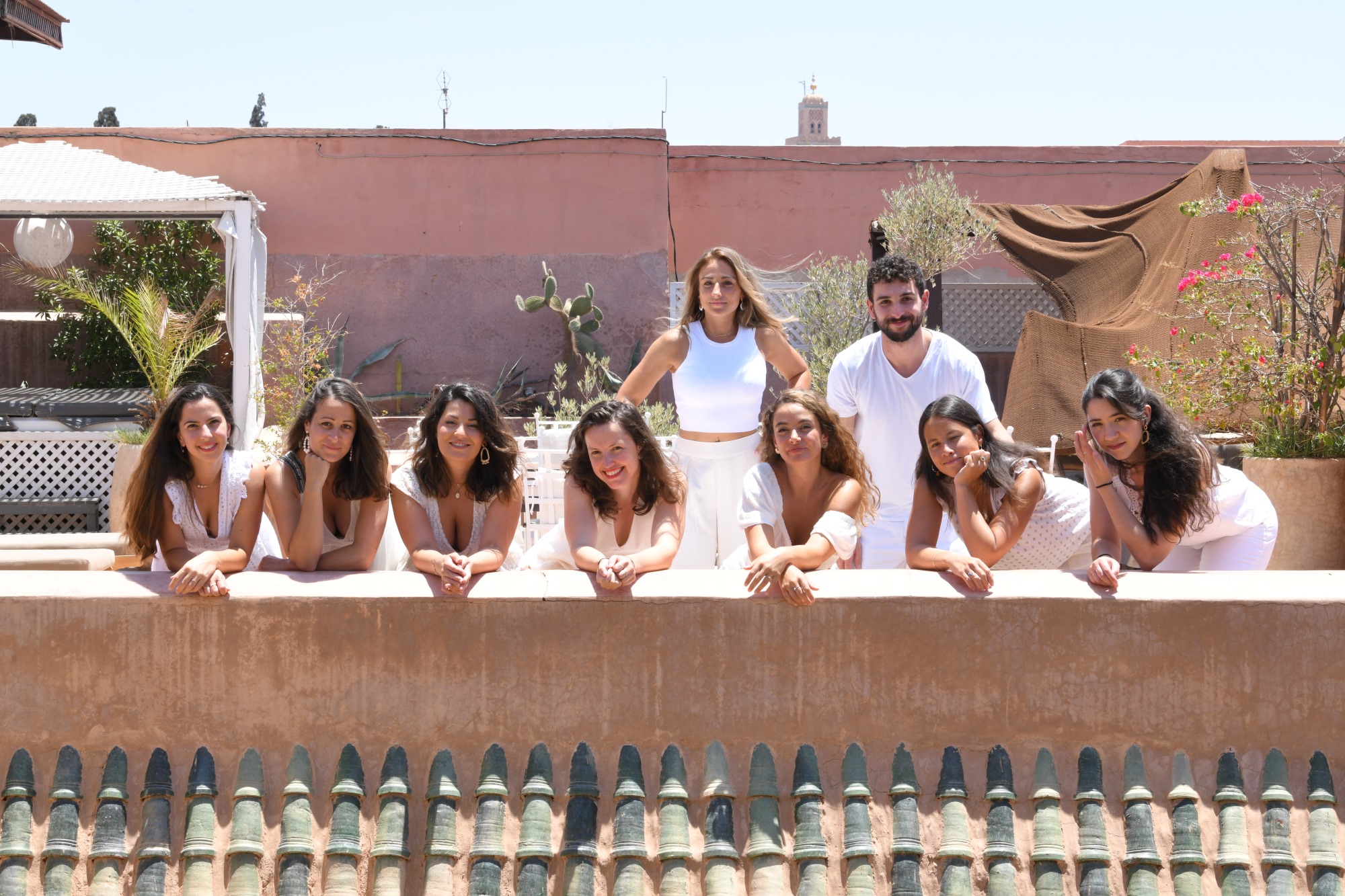 2 - Bachelorette Marrakech : Spa , Massages and Jacuzzi
Enjoy a moment of relaxation in our Spa with hammam with steam and essential oils, 1 hour of massage treatment and heated jacuzzi on the roof terrace.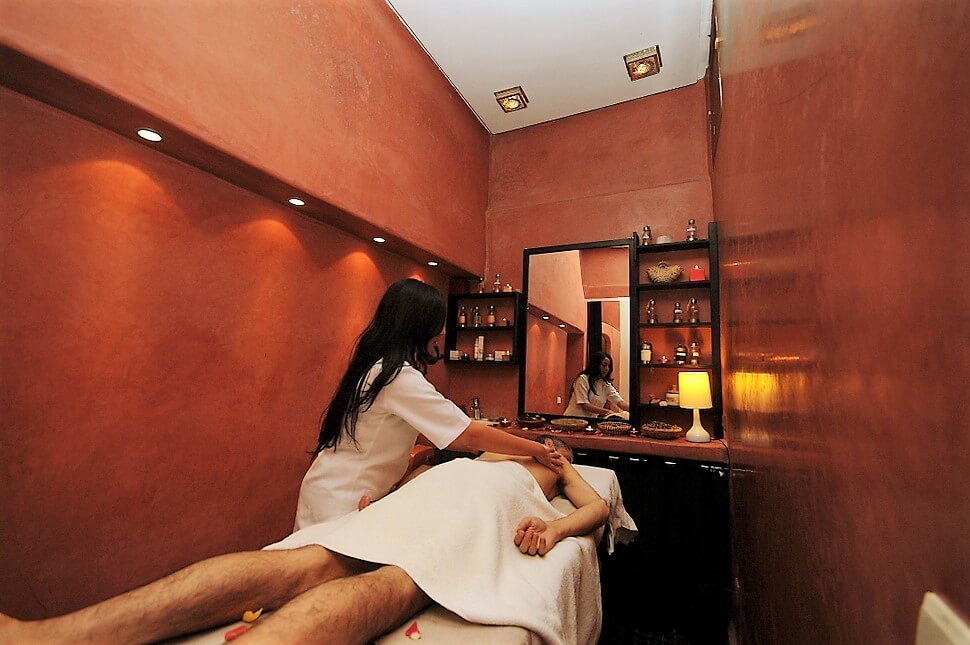 3 - Bachelorette Marrakech : Quad in Agafay desert or Palm grove
Go on a quad ride in the Palm grove of Marrakech for an excursion under the palm trees. The Riad Vendôme offers a half day Quad trip in Agafay desert or in the Palm, as you like. This bachelorette party activity has a flavor of adventure and freedom under Agafay desert sun. Unless you choose the Quad in the Agafay desert, it's even better!!!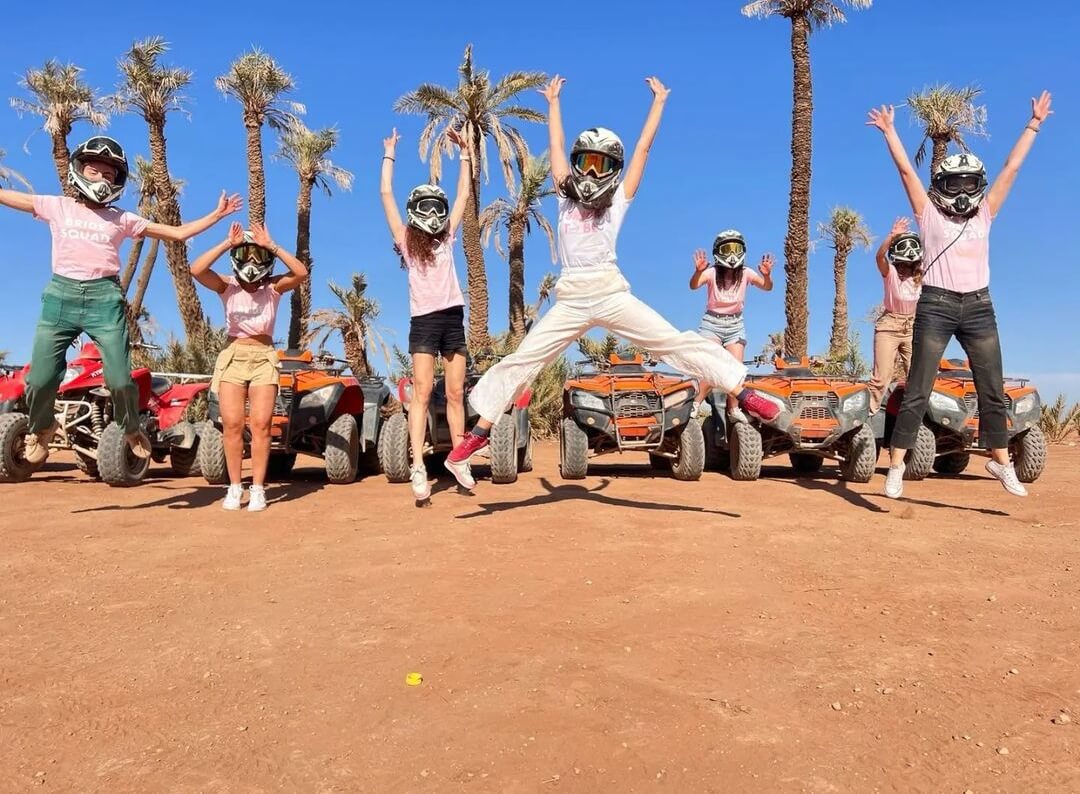 4 - Bachelorette Marrakech : Cooking Class in a Riad
Close to the Jemma El Fna square, you can choose to discover Moroccan cuisine with our Chef Naima some Moroccan cuisine recipes. On your return home with the girls, you will surprise your friends by preparing a Moroccan specialty for them. During your introduction to Moroccan cooking class, you will prepare 2 Moroccan starters and 2 differents tajines :
Preparation of two Moroccan starters,,
Chicken tagine with candied lemons and olives,
Beef kofta tagine,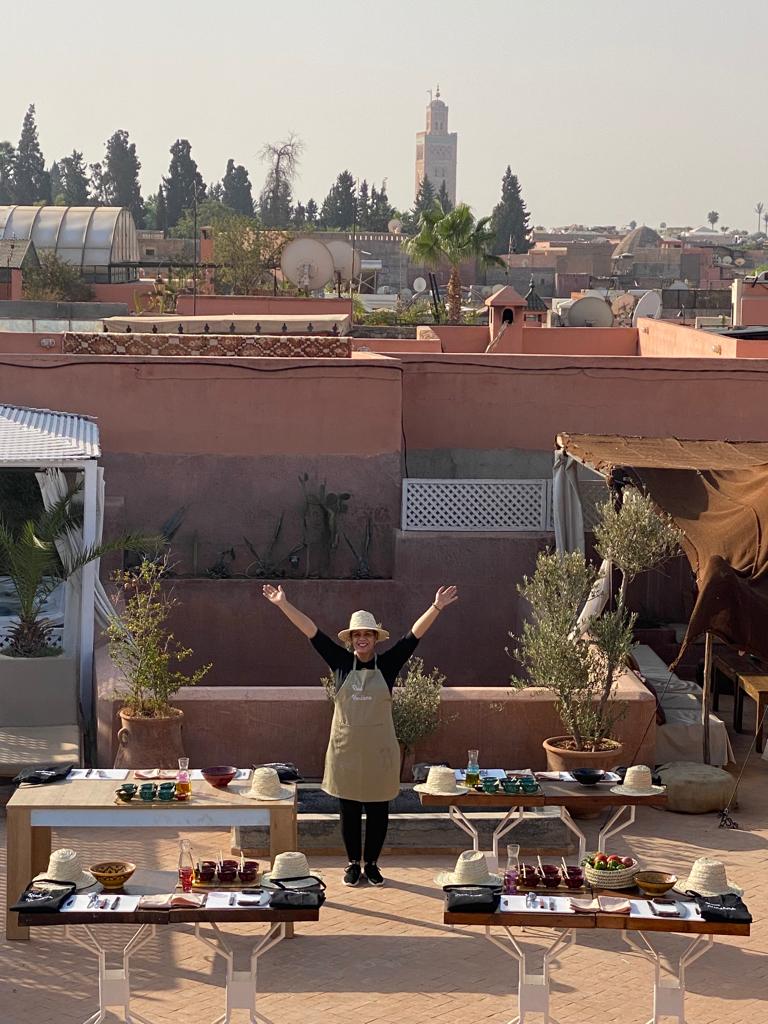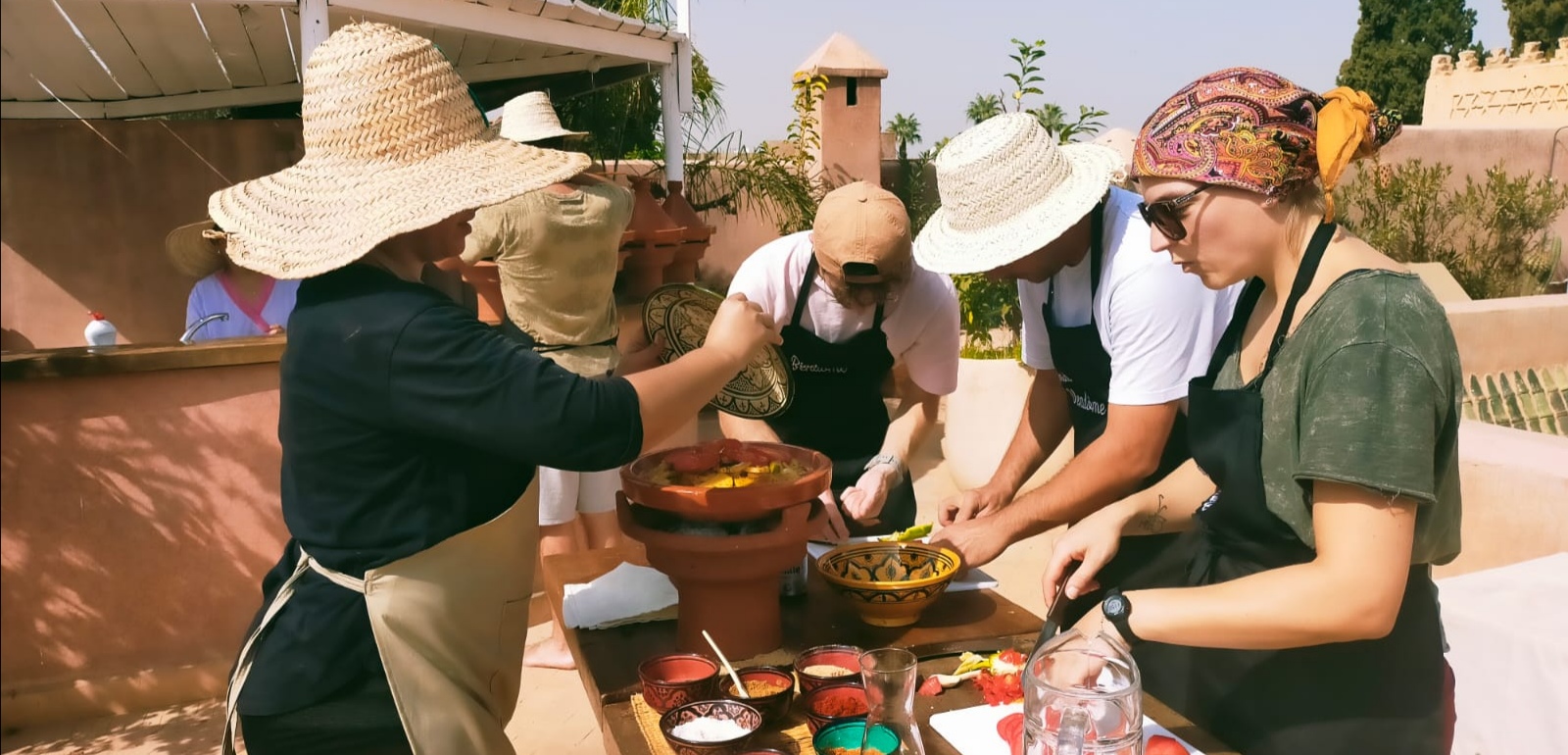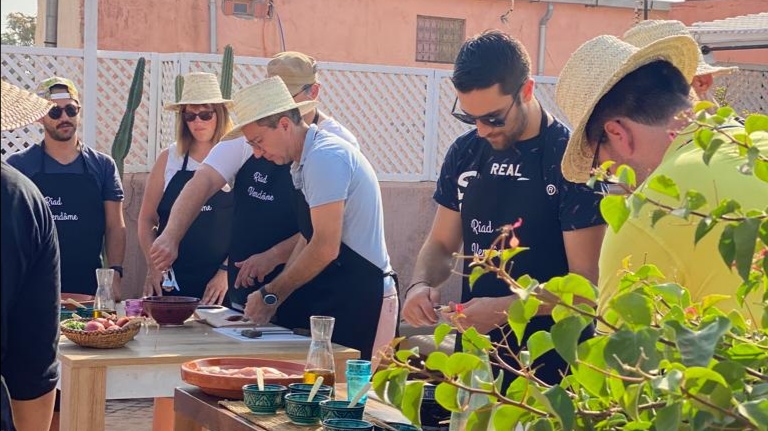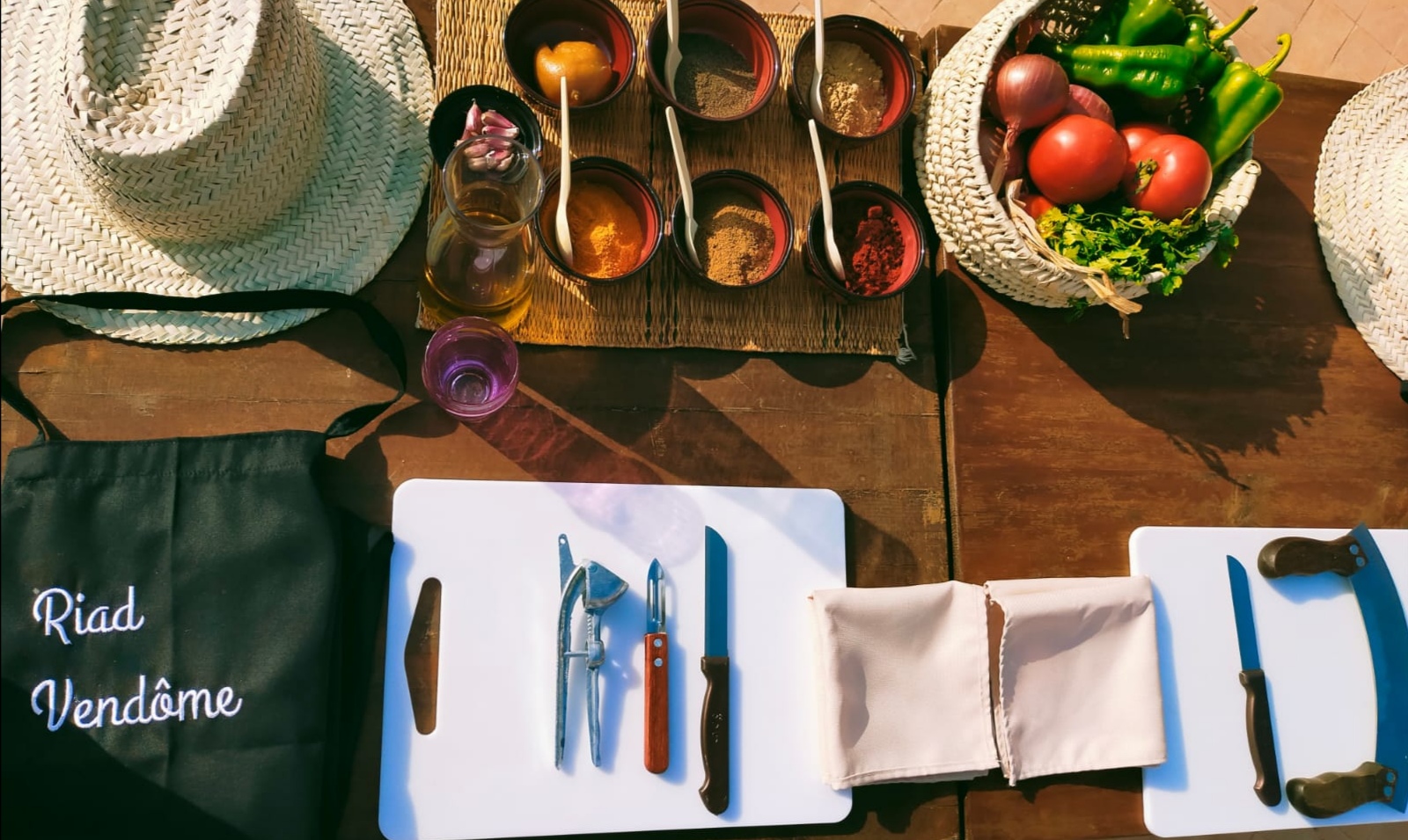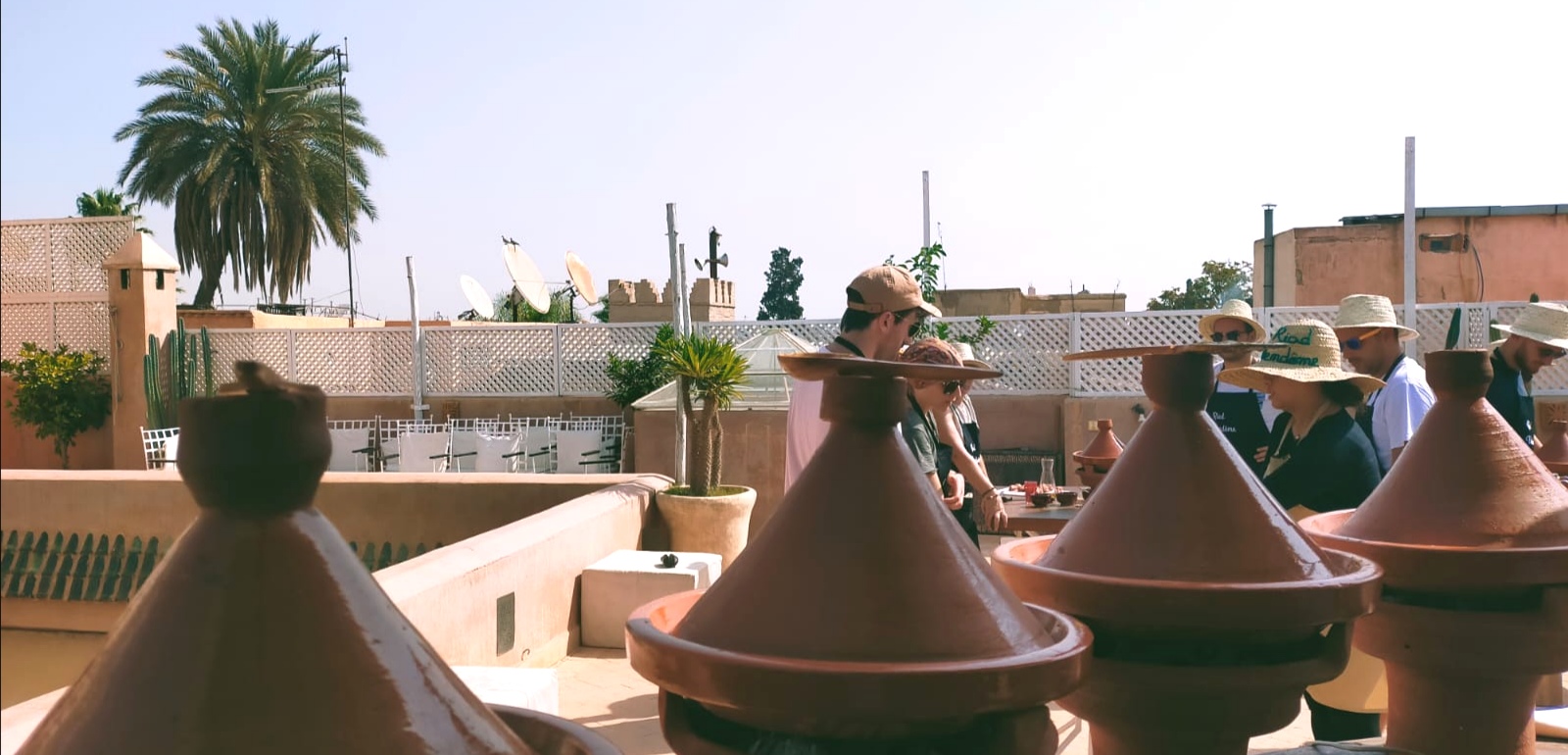 5 - Bachelorette Marrakech : Belly dancing class
You want to surprise your friend the bride-to-be, thanks to an oriental dance class activity in Marrakech EVJF.
We will introduce you to the basics and techniques of this refined dance. You will discover the sensual side and the grace of the gesture, in a playful and fun atmosphere within the riad.
The session is adaptable according to your program, your wishes and your level. We will prepare a mini choreography, if you wish.
To put you in the oriental atmosphere, it is possible to provide you with pretty dance accessories. You will keep a memory with memorable photos of this oriental dance class.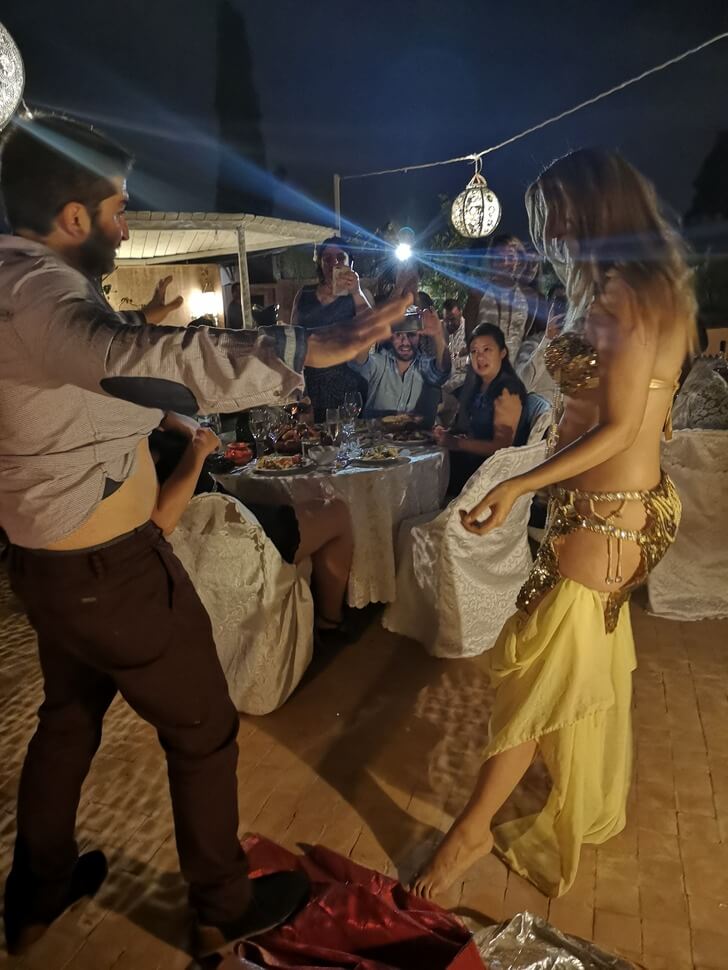 5 - Bachelorette Marrakech : Escape Game in the medina
Vous allez vivre un moment unique au coeur de la Médina de Marrakech. L'escape game vous offre une activité inédite ! Vous et votre équipe serez plongés et allez élucider des mystères tirés des Milles et une Nuits. Vous vivrez une aventure dans un cadre digne de studios de cinéma.dans un décor de cinéma…Vous aurez 60 minutes chrono pour réussir votre mission !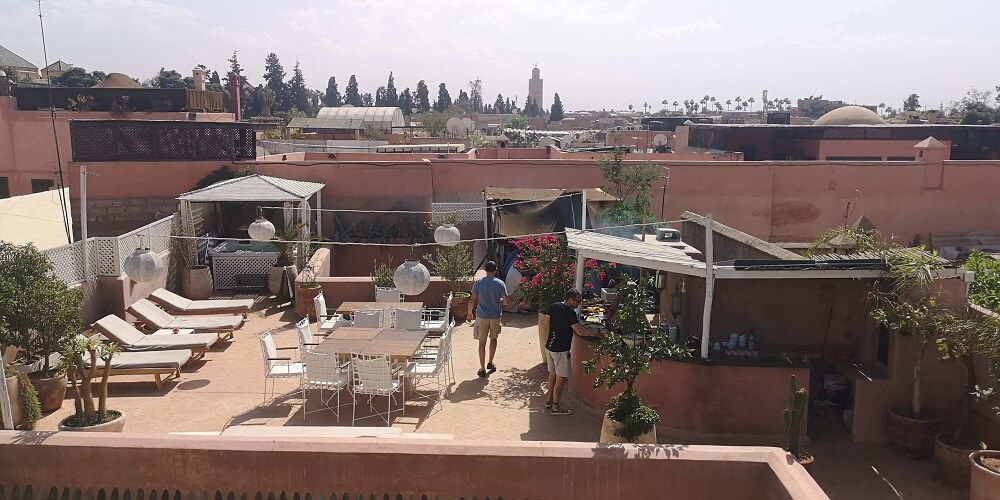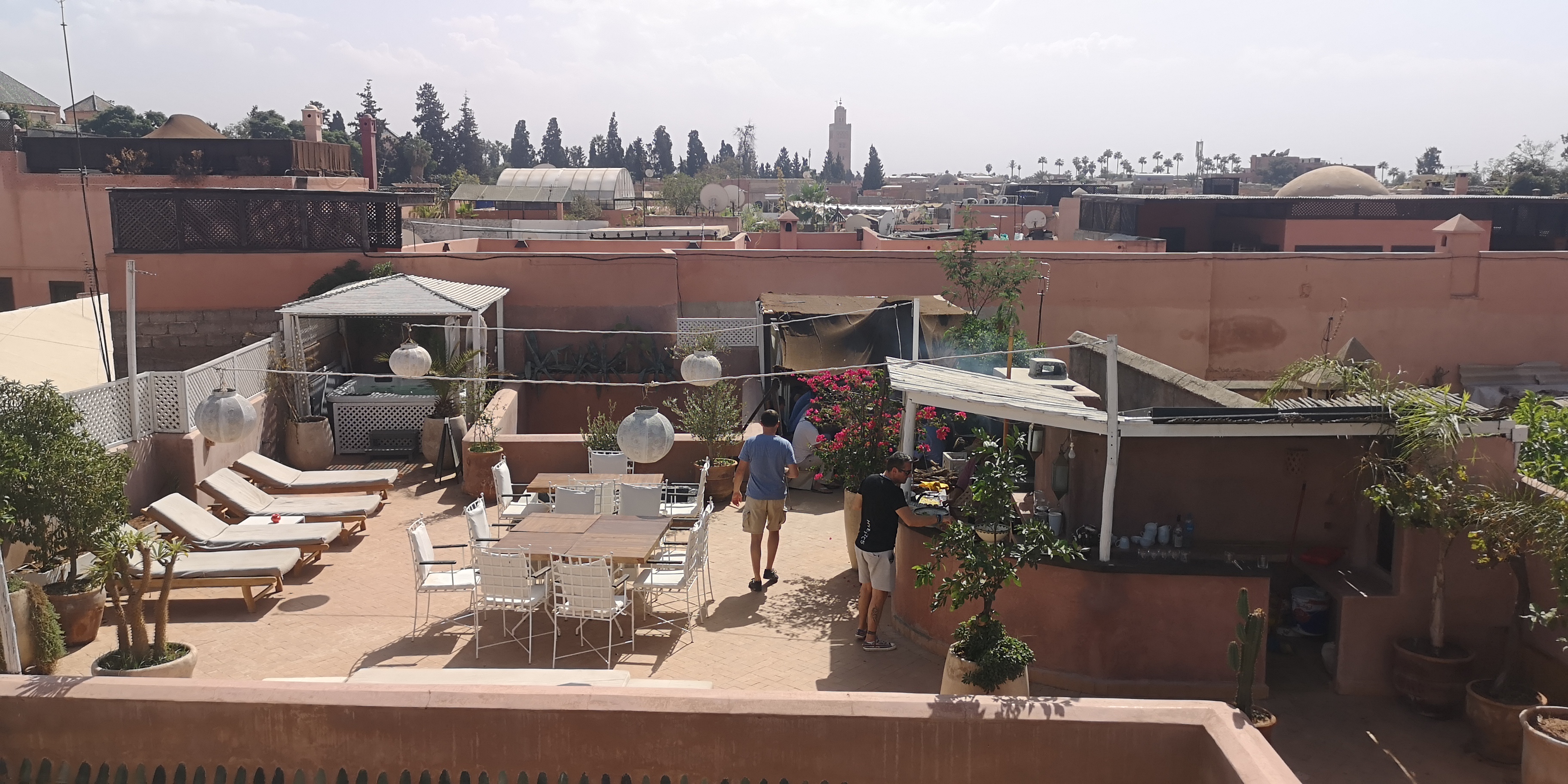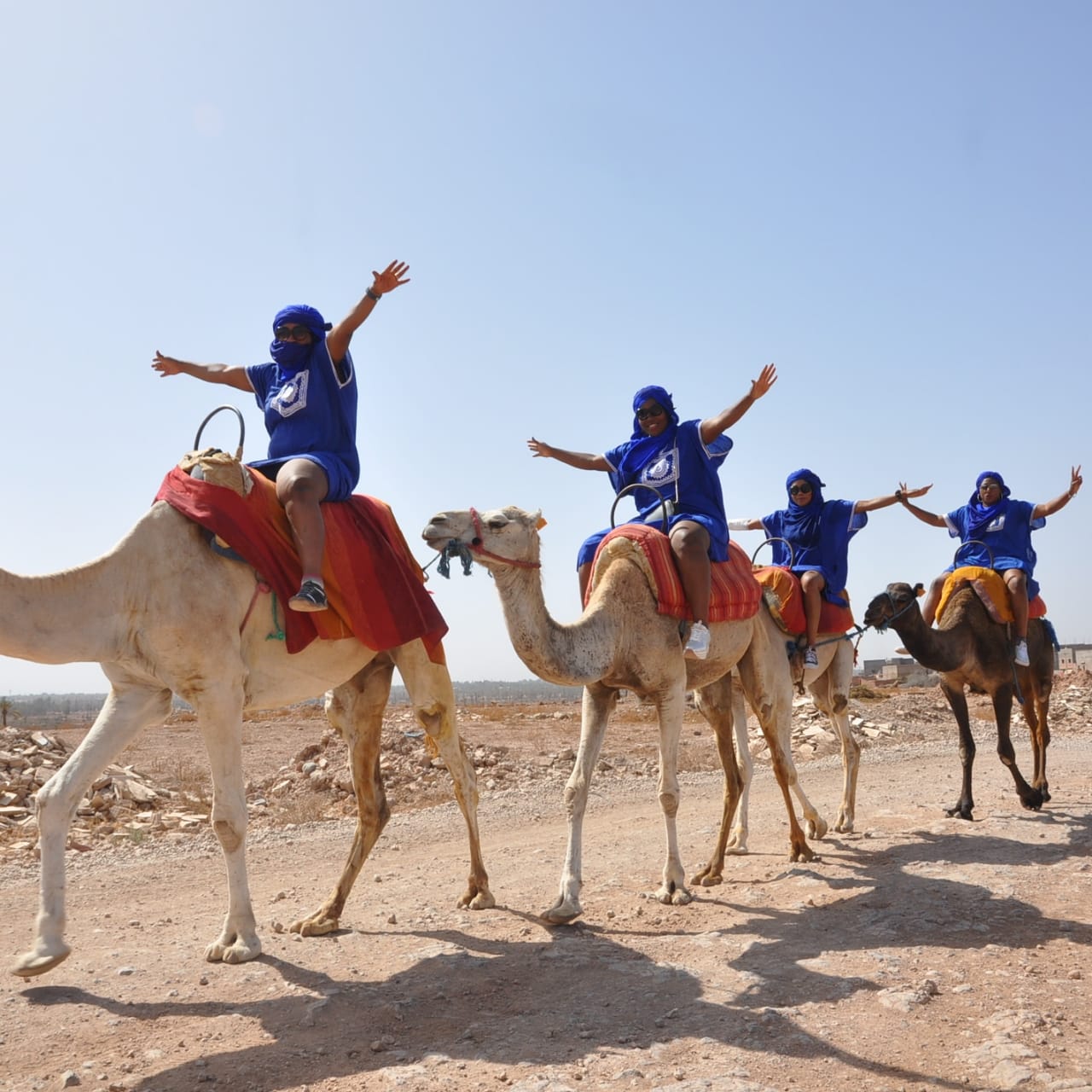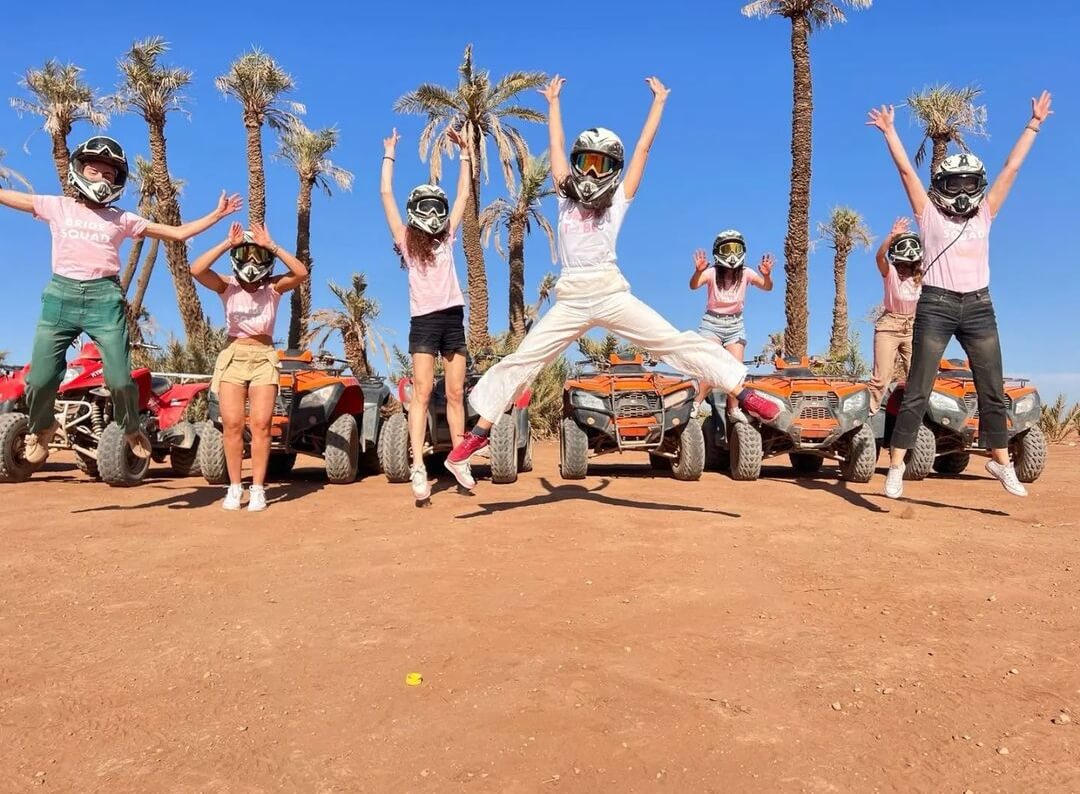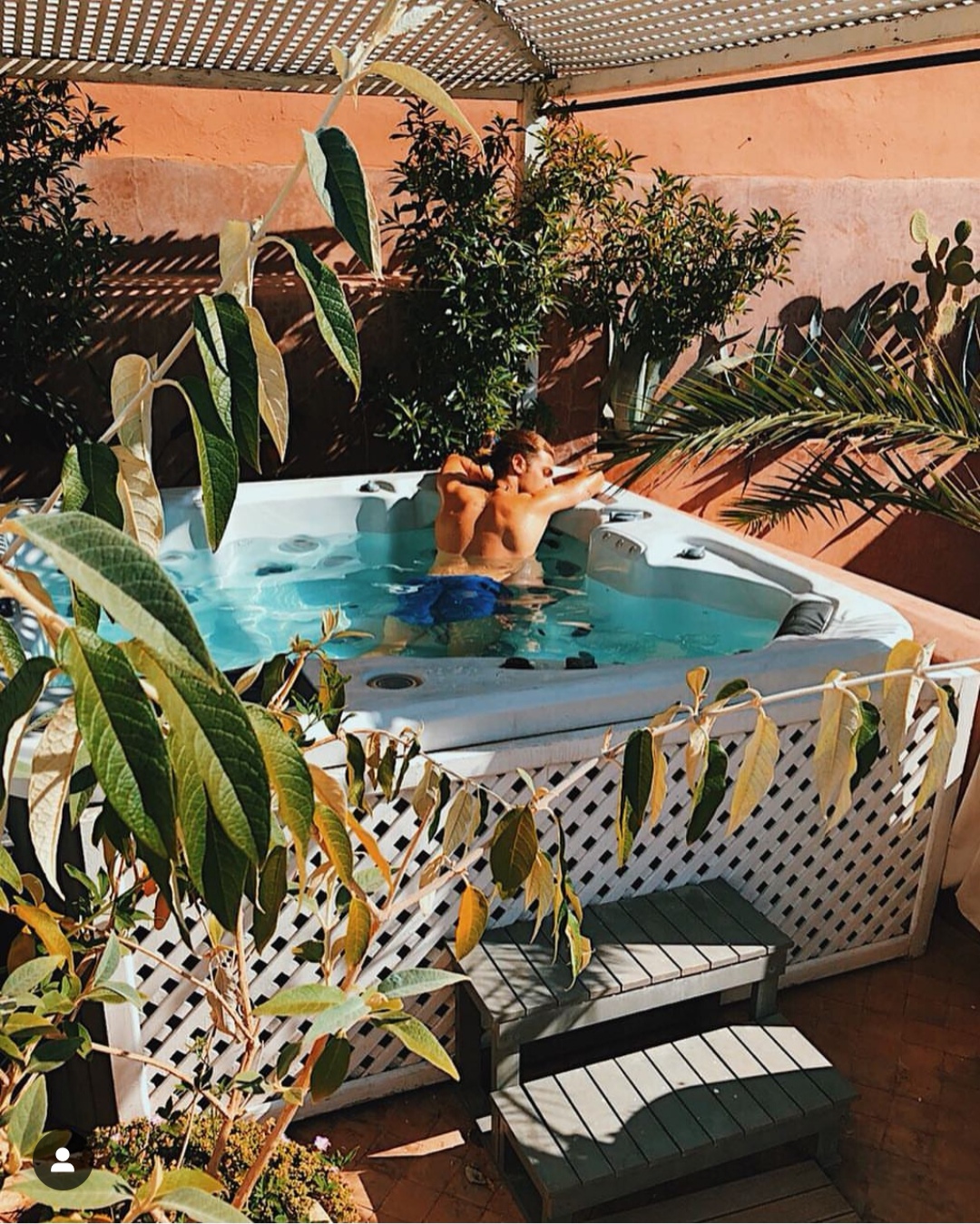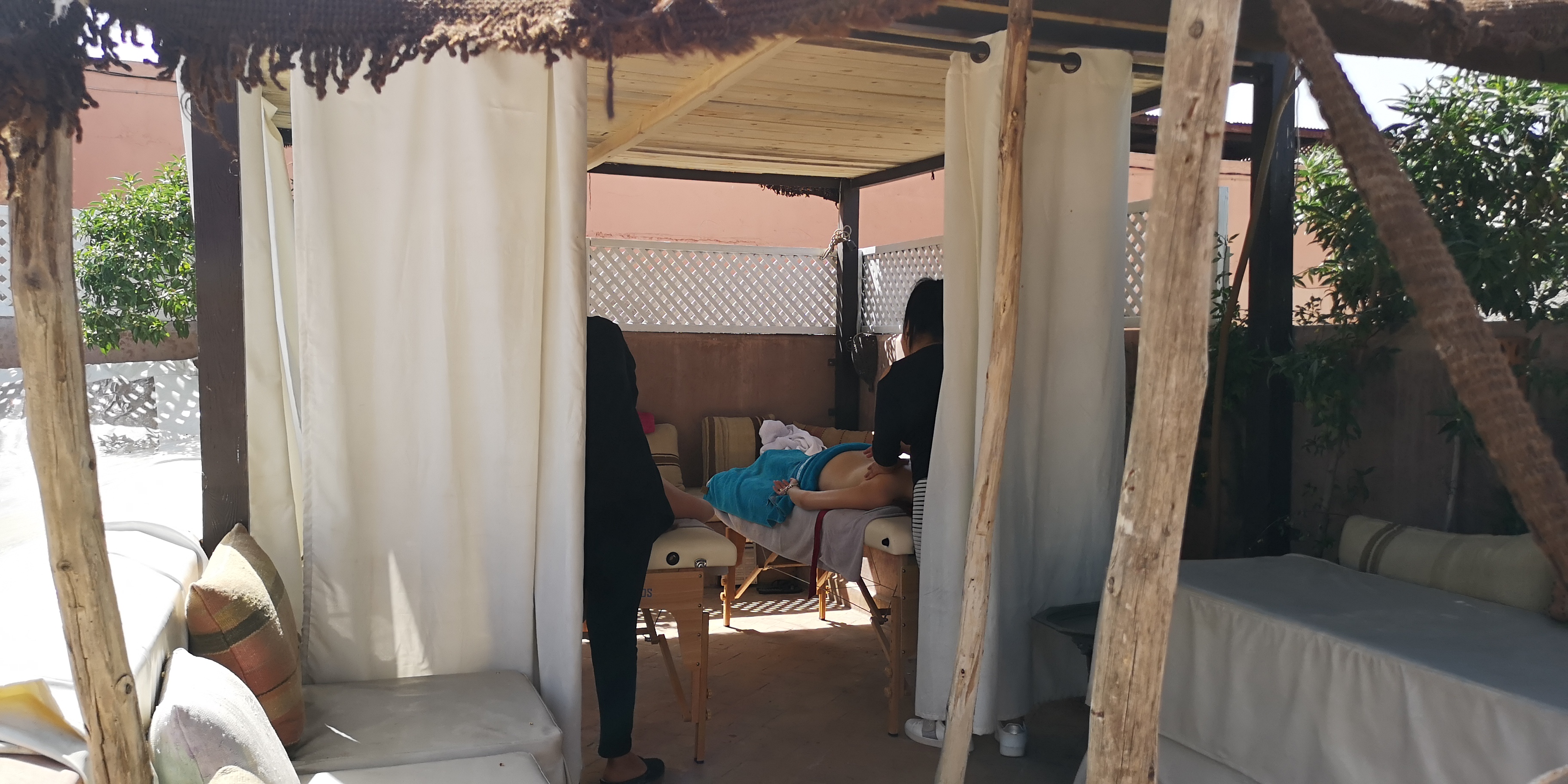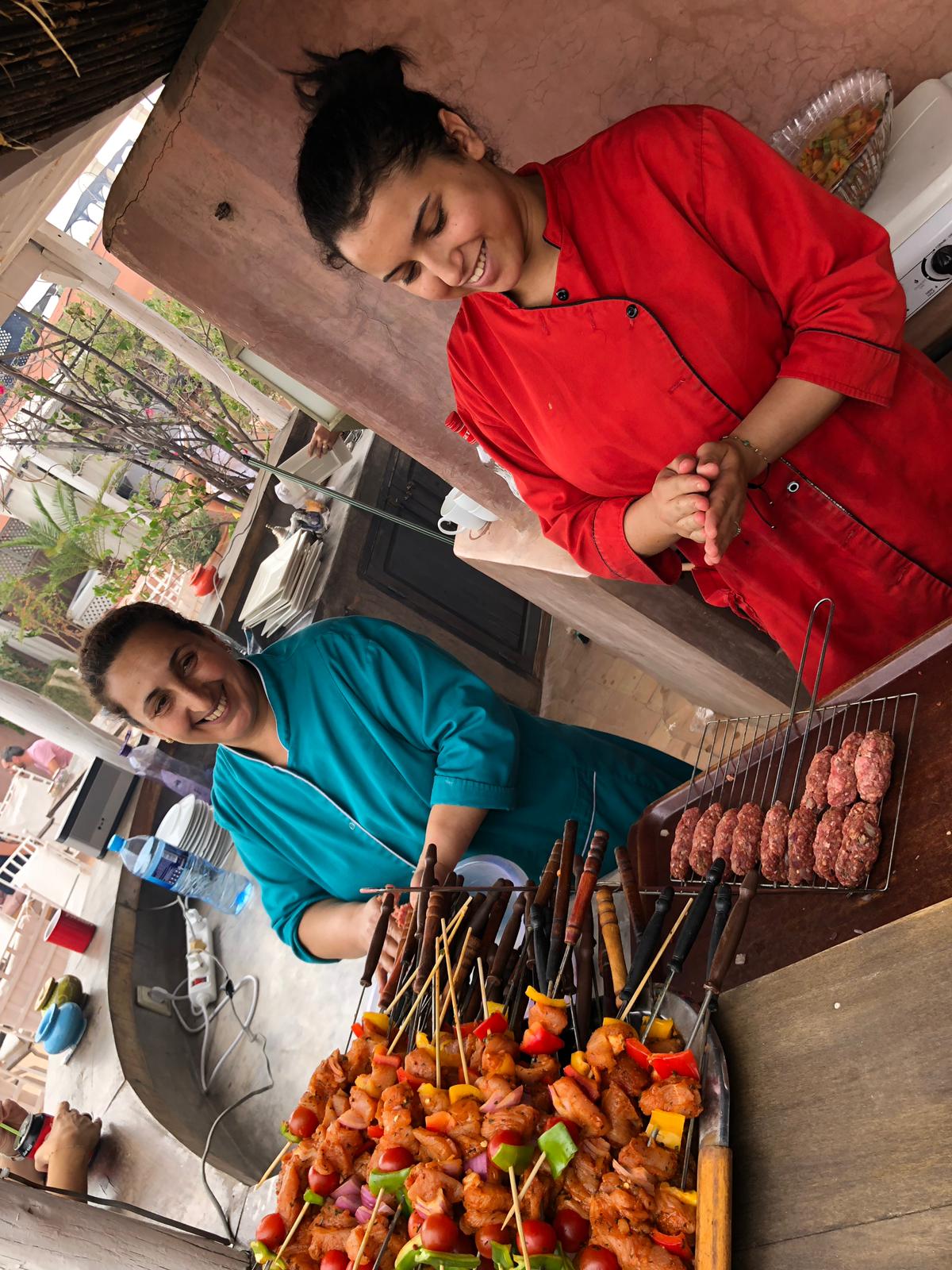 Hen week-end in Marrakech
For your budget, we advise you to book one of our all-inclusive bachelorette party packages "Bachelorette Riad in Marrakech" including: day spa at the riad with oriental hammam, jacuzzi and one hour massage per person. For a slightly higher price, you can include half board for your Bachelorette, a camel ride in the palm grove, an adventure in the Agafay desert, zip lines in the Atlas, or an excursion in the Ourika valley with its Berber villages.